Prof Golo Weber is the Assistant Dean for Undergraduate Programs at S P Jain School of Global Management. He was one of the founding faculty members of the BBA program in 2010.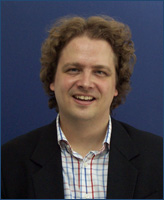 Golo Weber| Assistant Dean & Faculty | World Cultures
He holds a Bachelor's and Master's degree in Modern History from Oxford University and a Master of Philosophy in Chinese Studies from Cambridge University. He spent a year at the China Centre for Economic Research at Peking University, which is now part of China's prestigious National School of Development.
Golo has worked as Editor-in-Chief at 'Insight Guides' where he founded a new travel magazine and was responsible for its production. He has also worked in the capacity of Director of E-Business at Banyan Tree Hotels & Resorts and was responsible for the group's website development, online brand management and communications, international e-sales and e-Marketing.
Golo was felicitated with the "Professor of the Year" award in the BBA program (for the academic year from 2011 to 2012) – awarded by the Dean of the BBA and MBA programs in recognition of the best teaching feedback amongst the BBA professors. He has been also recognized with 25 web awards for the Banyan Tree Group websites.
For eight years, Golo pursued his passion for art, history and culture as a Museum Docent at the Asian Civilisations Museum, Singapore History Museum (now National Museum), Singapore Art Museum and Peranakan Museum.
His area of teaching and research interests include world cultures, sustainability, corporate social responsibility, social entrepreneurship, globalization, Chinese studies and South-East Asian Art.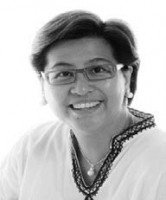 Carol R Cabal, PhD | Director, International Exchange Program & Faculty | Macroeconomics
I would like to briefly introduce to you my professional history. Over many years of my career in academia in the United States and in Singapore, my primary roles grew into teaching and administration. Here at S P Jain School of Global Management, I started our International Exchange Program and I am also one of the five founding faculty who developed our undergraduate business program. As Director of the International Exchange Program, I build partnerships with business schools abroad. In teaching, my areas of specialization are economics principles and economic development. I also supervise applied business research projects.
In my practical industry career, my areas of specialization are capital project analysis and public health policy-advisory. I worked at the only copper smelter and refinery in south-east Asia at the time (located in the Philippines, my home country) and conducted financial analysis of capital projects of the newly built plant. In the area of public health, I worked at the United States government's public health agency – the Centers for Disease Control and Prevention (CDC) in Atlanta, Georgia. I analyzed nation-wide databases (mostly on birth defects) and worked with epidemiologists, medical doctors, and other health-care professionals to help inform policy-makers on the costs and benefits of pre-natal screening for birth defects. I still serve occasionally as an anonymous reviewer for the American Journal of Preventive Medicine.
I would also like to mention my work at an international research organization in Ethiopia – the International Livestock Research Institute of the Consultative Group of International Agricultural Research. This was a fellowship towards my PhD degree. During my three years in Ethiopia I recruited, trained, and supervised my own field team for primary data collection in the rural highlands. I also engaged with the local government agencies, rural community associations, and NGOs. This fellowship was made possible by the research grant I wrote while I was a doctoral student at the University of Hawaii.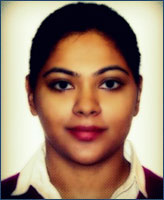 Dhannya VS | Faculty | Business English Writing/Business Oral Communication
Dhannya VS is Instructor for English and Communication Skills at S P Jain School of Global Management.
Dhannya is a postgraduate in Psychology and holds an Advanced Certification in Training and Assessment besides holding an Advanced TESOL Diploma.
She has worked as soft skills trainer at the corporate level at IBM, India and as Business Coach at Convergys.
Her areas of training interest include cross-cultural communication, public speaking and presentation skills.
She has been felicitated with the "Instructor of the Year Award" in the year 2012 and is an avid scuba diver.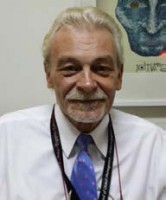 David Artlett| Faculty | Business English Writing/Business Oral Communication)
David G. Artlett is a Partner/Consultant with David Artlett Communications Consultancy, a Singapore-based consultancy specializing in communications skills training and consulting for a wide range of industries and acts as a Consultant for business/corporate Presentations, Cross-Cultural Communication and Speaking/Delivery Skills for speeches, corporate events and media interviews.
David is a graduate in Literature and Economics & Social History from Manchester and IHT TEFL Diploma from International House, London. He also holds RSA TEFL/TESOL Diploma from Royal Society of Arts, London. He was associated with the British Council, Singapore as Trainer/Consultant specialising in Examination Courses, eg FCE and CPE and he is a founding member of the BCU (Business Communication Unit) which became a flagship for British Councils throughout the world in their relationship with industries internationally.
David has taught English language development units specializing in written English at the National University of Singapore, he was Director and Instructor at Byrom School of Languages in Manchester focusing particularly on Graduate Students from the Middle East and South America who would be undertaking post graduate studies at Universities at England.
David has been a speaker at Business and Airline Conventions specializing in The Psychology of Oral Communication Presentations and Cross-Cultural Communications. He is a writer for corporate and non-corporate documentaries, a dialogue director and coach and is an international award-winning narrator for TV and film.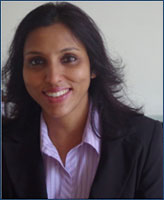 Shalini Chandra, PhD| Faculty | Computer Skills/Regional Immersion Project
Dr Shalini Chandra is an Assistant Professor at S P Jain School of Global Management and teaches subjects pertaining to business computer skills and information systems.
Prior to joining S P Jain, she worked as Research Fellow at Nanyang Technological University (NTU) Singapore and holds a Ph.D. from the same university.
Shalini's research interests include virtual worlds, mobile payment, technostress, trust, and technology acceptance. Her research has been widely published in several international refereed journals such as Information Systems Journal, Journal of the Association for Information Systems and Communications of the AIS among others. She has also presented her work at several top-tier conferences in the area of Information Systems such as Academy of Management (AOM), Pacific Asia Conference on Information Systems (PACIS), Americas Conference on Information Systems (AMCIS), and International Conference on Information Systems (ICIS), and at top-tier communication conferences such as International Communication Association (ICA).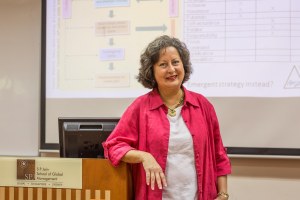 Dr. CJ Meadows| Director | i2i - the Innovation & Insights Centre
CJ is Director of the i2i – the Innovation & Insights Center at S P Jain's Singapore campus, as well as Executive Director, Chair and Co-Founder of The Tiger Center, a groundbreaking social enterprise in central India. During her career spanning two decades, CJ has focused on leadership and management education, management research, strategy, finance, accounting, investments & business development, legal, IT, marketing & PR, and people management.
She holds a Doctorate in Business Administration from the Harvard Business School and has previously taught at INSEAD, Harvard, Asian Institute of Management, National University of Singapore and Singapore Management University corporate programs.