The Industrial Visit to Godrej One in Mumbai on 3rd December 2018 was part of the 'Principles of Management' course – chapter 'Change and Innovation' – that focuses on how companies follow innovation culture that appropriately suits their organisational culture. This visit was the result of Prof. Shrinivas Shikaripurkar's relentless efforts to make sure the BBA 2018 Jaguars got a chance to visit one of India's most successful companies – Godrej Properties.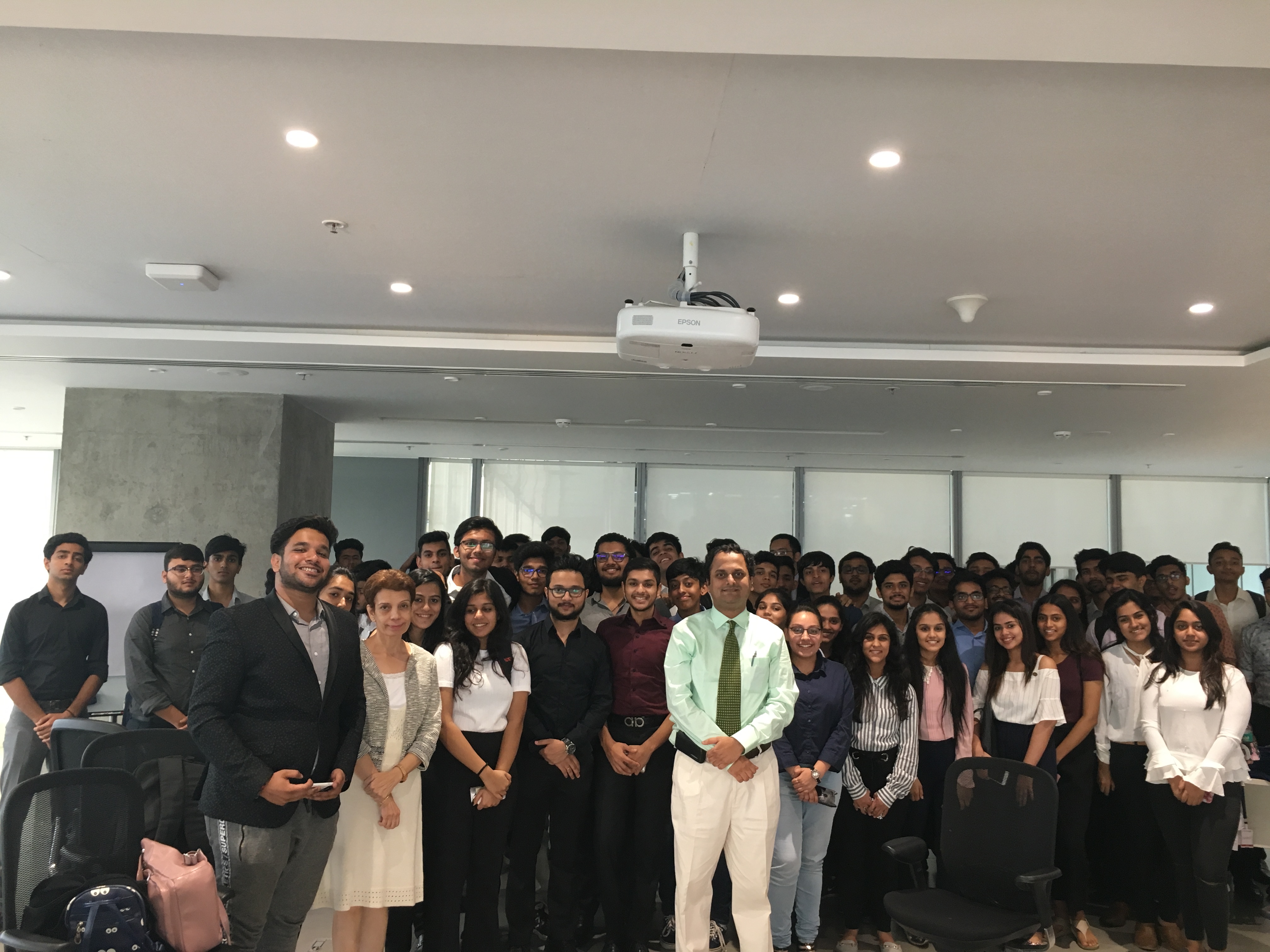 In today's world, where every industry is on the verge of disruption, a company must innovate to avoid the S-curve and stagnation in its business cycle. They must innovate to start a new growth cycle for their company and stay relevant. At Godrej Properties, they use the Design Thinking culture to innovate in their company which believes in empathising with its customers. All these ideas and processes have culminated into Godrej One, their new flagship office, which was envisioned five years ago and has finally become a reality. With its modern architectural design, the office of this real estate company is like none other. When we attended the lecture by Ms. Namrata Mehra, it became obvious why Godrej had made these choices and how it had done so with excellence. Driving all these decisions was their basic philosophy and belief: experience is what customers want.
Their new flagship project, 'Godrej Trees', is a group of residential and commercial buildings coexisting. This project was highly influenced by the aforementioned belief and was the main subject of the lecture. Design Thinking, which is a 'solution-based approach to solving problems', was at the core. They believe that by empathising with their target customers they will be able to provide them with an unparalleled experience. Their choice to build this in Vikhroli, near the mangroves forest, was intentional and clearly followed this culture of innovation. The cleaner air (said to be 30% better than the city average) was an intangible but important part of the experience. Their choice to go with advanced window walls for their office was practical and beneficial. It allowed natural daylight to enter the office that not only saved electricity costs during the day but also helped the employees to be more productive.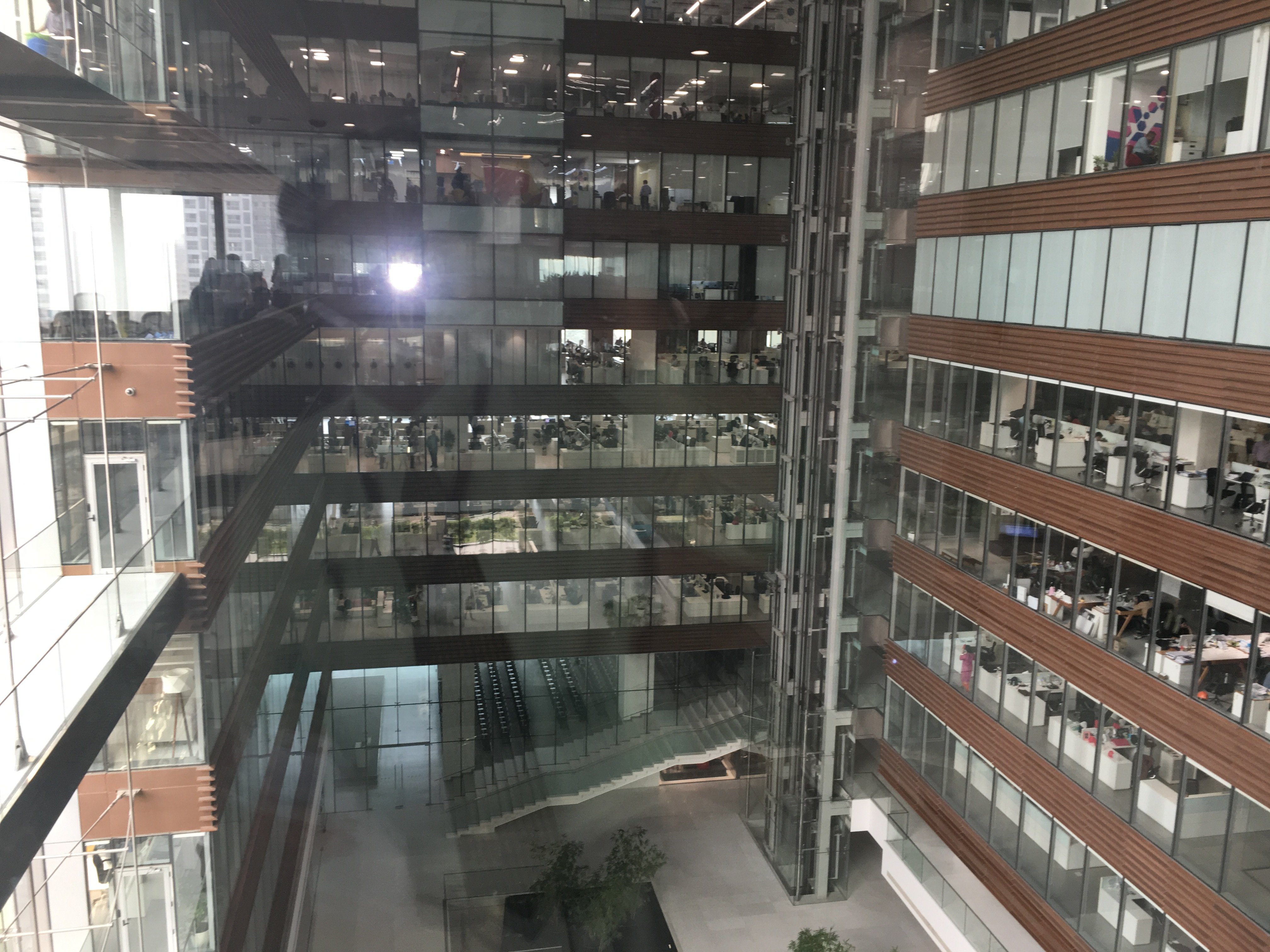 Another factor for their success is their commitment to Sustainable Innovation. They believe that innovation is the only way to ensure the growth of the company in this everchanging world. These new ideas for their business made it a fulfilling learning experience for the students of SP Jain School of Global Management.
Although the lecture was very informative, it was not the only source of learning. With international meetings taking place in an adjacent room and various seminars being conducted across the office, we were also able to see how a big and reputed enterprise functions. This enabled us to gain a deeper understanding of how much the real world differs from the theoretical subjects. This was not a subject or concept that could be taught, but rather an experience that allowed us to gain invaluable insights. Nevertheless, the meetings that were being conducted in the different conference rooms were similar to the ones that are conducted in a 'Business English' class.
The importance of the 'World Cultures' course was apparent when a group of Chinese and American business delegates were present with Indians in another conference room and were trying to strike up a deal. Questions from the students after the lecture about 'Macroeconomic' policies also showed how even the big companies consider such factors in their research. And, most of all, various 'Principles of Management' terms were used by the speaker during the lecture that showed how relevant all our subjects, including 'Math' and 'Computer Skills', are.
This visit, just like several others, was inspiring for many students and complemented the learning at SP Jain. For instance, when visiting TajSATS, we were able to learn about innumerable 'Total Quality Management' techniques that the company used which were a part of our course. The visit to the Bombay Stock Exchange was also very important for us in understanding the new advances in financial technology. All these visits make our learning experience at SP Jain's Mumbai campus that much more robust and effective and the visit to Godrej One was no exception.
Author: Pratik Madrecha (Student of BBA Sep'18 intake)