At SP Jain, we believe that every student has the potential to achieve success with the right training and guidance. Over the years, our students have often gone above and beyond their call of duty to achieve absolute brilliance in their field of interest, and this year was no different!
Here's a look back at what our inaugural Bachelor of Data Science (BDS) cohort achieved in less than 10 months!
Internships at Leading Institutes
The class secured 8-10 week-long internships at some of India's premier educational institutes including Indian Institute of Technology (Bombay & Kharagpur) and Indian Statistical Institute (Kolkata) where they will be undertaking undergraduate research alongside the host students.
Some of the world's top institutes including GroupLens Lab (Minneapolis, USA), Saint Petersburg State University (Russia), University of Bucharest (Romania), and Arizona State University (Phoenix, USA) have also consented to host 4 student interns respectively.
Additionally, 3 students from the cohort recently secured internships at Vietnam Prosperity Bank (VPBank) – one of the earliest established Joint-Stock Commercial banks in Vietnam.
Training Under Top Faculty
Apart from the highly accomplished faculty at SP Jain, the students are also being trained by some of the world's most renowned faculty including Prof AK Chakravarty (ISI Kolkata), Prof Joseph Konstan (University of Minnesota), Prof Swagato Chatterjee (IIT Kharagpur), and Prof Ashish Das (IIT Bombay).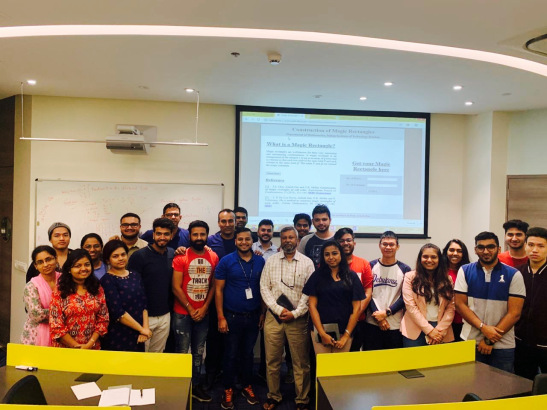 Research Projects Using Highly Complex Technologies
A few notable projects our BDS students are currently working on include:
Deducing the age and sex of a person using Artificial Intelligence (AI). Watch Now.
Engineering a smart speaker from Raspberry Pi 3 that answers questions and responds to voice commands. Watch Now.
Predicting if a person is a customer using software developed on Python and an AI camera
Building a conversation between Google Home and Amazon Alexa on Raspberry Pi powered by IoT
Global Immersion, Tech Fests & Co-Curricular Achievements
Besides the numerous academic achievers, the cohort also includes a junior ATP ranked tennis player and a Mumbai Open Championship winner! Students recently won accolades in multiple inter-college fests including the IIT Bombay TechFest Hackathon and IISc Robotics Science Fest. In March 2019, 4 groups of students presented their findings in front of UK-EU's top C-suite retail executives and prominent tech leaders from India including Suresh Satyamurthy, Co-Founder & CEO - Tarnea Technology (Microsoft Accelerator), Shaukat Shamim, Founder & CEO - Youplus India, and a Board Member from Reserve Bank of India (RBI).
We are extremely proud of our BDS 2018 cohort and look forward to their future laurels! How would you like to future-proof your career by developing skills in one of the hottest fields of this decade? Admissions are currently open to the SP Jain BDS Intake of Sept'19. Start your application today!