Manthan Shah (BBA Intake of 2018) is a professional athlete who captained India's team in the International Table Tennis Championship (Pacific Games, Australia) and won 2 bronze medals in the event before he joined SP Jain. Since then, he represented the School in the Spartan Race (Malaysia, Philippines, and Singapore) and is currently the youngest Indian to do so. He also gave a talk at TEDxGateway, was a part of the Dean's List for academic excellence, was a guest speaker at the Podcast on Climate Change with Scott Amyx (USA), participated in the outreach program in Philippines, published a research paper on Circular Economy, won three gold medals at the Fiesta Games 2019, and so much more!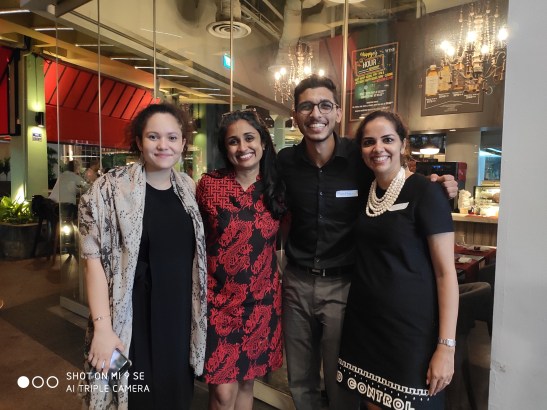 What does someone with so much on his plate do during his summer break? We caught up with Manthan to find out.
Q. What were you up to this summer?
Manthan: Besides travelling in ASEAN and participating in Spartan Races, I was interning at Ashoka - Innovators for Public. Ashoka is the 5th biggest NGO in the world with a solid network of 3,500 social entrepreneurs.
Q. What was your role at this company?
Manthan: The company has the flattest hierarchy - they don't give any labels to the role of work. However, I was formally the Community Changemaker Intern (although I like to call myself the Research Ninja). I was managing 3 projects during my time at Ashoka -
org x Ashoka Partnership - Drafting the proposal for the partnership with google.org APAC to raise $650,000 for a capacity building program for 40 entrepreneurs.
Changemaker Exchange - It is a program when Bosche Steifung, the German giants, sponsor 20 young social entrepreneurs to fly to new destinations every year for a 5-day capacity building program, followed by a lifelong network for capacity building.
Budget - Creating the company's 3-year-plan. This included the whole budget of project expenses and revenue model followed by a pitching deck for the potential sponsors.
Besides this, I was also working on several short projects like doing the landscape mapping for Indonesian school and government systems to start our new programs there, writing pieces on disruptive technologies and social entrepreneurships, and more.
Q. What made you choose this role?
Manthan: You may like my blog on how to get an internship, as I went through a very insightful process of selection for this internship. In short, I used the Ikigai method to decide what would truly be best for me. I have always been driven to make a social change (starting the NGOs). In Singapore, I was at the entrance test stage for an internship at UBS, the finance giants, and I had soft agreements at the International Table Tennis Federation (ITTF) and Carousell as well. Did you notice that all of these are in different domains altogether? Sports (my table tennis identity), technology (my RIP research paper was on e-commerce B2B sales) and Finance (my major). However, I chose Ashoka because of the following reasons:
Sumitra Pasupathy - She is the APAC Director for Ashoka. Her vast experience extends from graduating from Cambridge to working in Kraft, Random House publishing, and more. She is also the founder of Playeum, an NGO in Singapore. Getting mentored by her was on the top of my list.
Prof Golo Weber (Assistant Dean, UG Programs) - He highly recommended their name and story, and his recommendation meant a lot to me.
I felt like this was my true calling. The whole team consisting Divya, Rajesh, Dian, and Sumi were highly accomplished professionals changing the world. Small team, flat hierarchy and a lot of mentorship opportunities. To top it all, the story of getting the internship has now become a company legend - I straight up knocked on their door in April demanding to see Sumi and asking if she would grant me the internship and mentor me.
Additionally, it was a paid internship. So, I could earn a bit as well.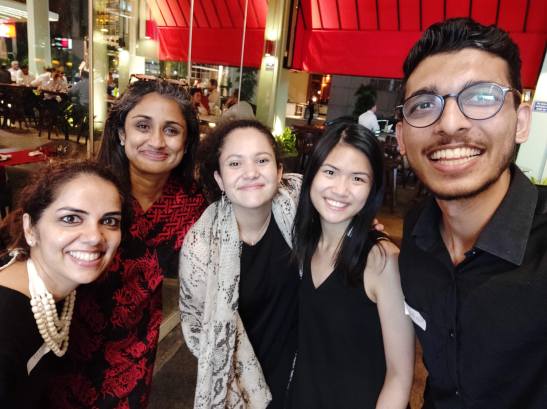 Q. What was your favourite part of the job? How did it help you develop professionally?
Manthan: My favourite part was definitely the Tuesday team meetings - everyone would compulsorily come in and sit for comfortably long meetings. They were designed especially for Ashoka – a safe zone for everyone to be on board and know how the company is growing and get a chance to grow personally.
Secondly, the work culture. I could choose the projects I wanted to work on, and they would give me the responsibility to achieve certain goals and the support to do so.
Finally, what helped me grow professionally was networking. Within the short time that I worked with Ashoka, I got the opportunity to attend 12 different events where we were official partners. I met people from Google, Microsoft and Macarthur Foundation, and even got to interact with dozens of founders of some great NGOs. It was beautiful.
I also started a podcast for Ashoka, where I got a lot of personal time with the likes of Jack Sim (World Toilet Organization), Aysha Baqir (Pakistani writer and social worker), Kiran Bir Sethi (Founder of Design for Change), and Yuhyun Park (Speaker at World Economic Forum and the United Nations).
Q. People often say that an internship helps you learn more about yourself. Was this true for you?
Manthan: It was absolutely true! One of the best things that I learnt about myself in this internship was that I function best in a flat hierarchy and an open empathy environment. The internship gave me a sense of clarity on what I want to do in the future – I want to work with a local NGO or a big think tank. I now have a clearer picture of what I'll want to take up during my future summer breaks.
It also gave me insights about where the world is headed for when it comes to philanthropy and change-making and this helped me figure out where I fit in.
Q. In what way has your internship affected your future goals?
Manthan: One of my broad future goals has always been to work at either the United Nations, the World Bank or the World Economic Forum. This internship helped me build a network and gain personal insights about these organisations which, I believe, will help me to reach this goal one day.
Q. Do you have any advice for future interns?
Manthan: For me, this internship experience was literally lifechanging, and this is what SP Jain intends to offer. You would do yourself a big disservice if you don't take up these internships during your summer breaks. We have the opportunity to visit these amazing countries – the nightlife is just one side of it. Living and working there is what will grant you the true essence.
Secondly, don't work just for money. It is easy to earn money on an hourly basis (by tutoring, etc). You should look out for mentors and find opportunities for personal growth.
Thirdly, getting an internship is partially a numbers game and partially it boils down to your calling. I applied to several dozen internships online and met at least 50 people personally before I got the 4 opportunities that I mentioned before. The first step would be to know what your purpose is (or what is your why) - my blog on how to get an internship could help.
Finally, to make the most of the internship, you need to have an objective of what you want to learn. Ask for responsibility, ask blunt questions, and be ballsy (they appreciate it internationally) and think of a sophisticated feedback mechanism to build a relationship with your mentor or senior (the blog on how to make the most of an internship might help).