After spending roughly a decade in fintech, BBA graduate Joel Silverberg took a senior leadership role at Klarna, managing an organisation with ~100 people while also building the business in the USA and the UK. As the next step in his career, in January 2023, Joel took the plunge to join Fairlo, a consumer lending fintech scale-up, as the Chief Product Officer. Parallelly, he also sits on the board of a few startups and VCs.
A true inspiration to young minds, how did Joel scale these brilliant heights at such a young age? What transformations has he seen in the fintech industry over the last decade, and how will it change? We spoke to Joel over a quick interview when he was a part of Klarna to gain his insights. Let's find out.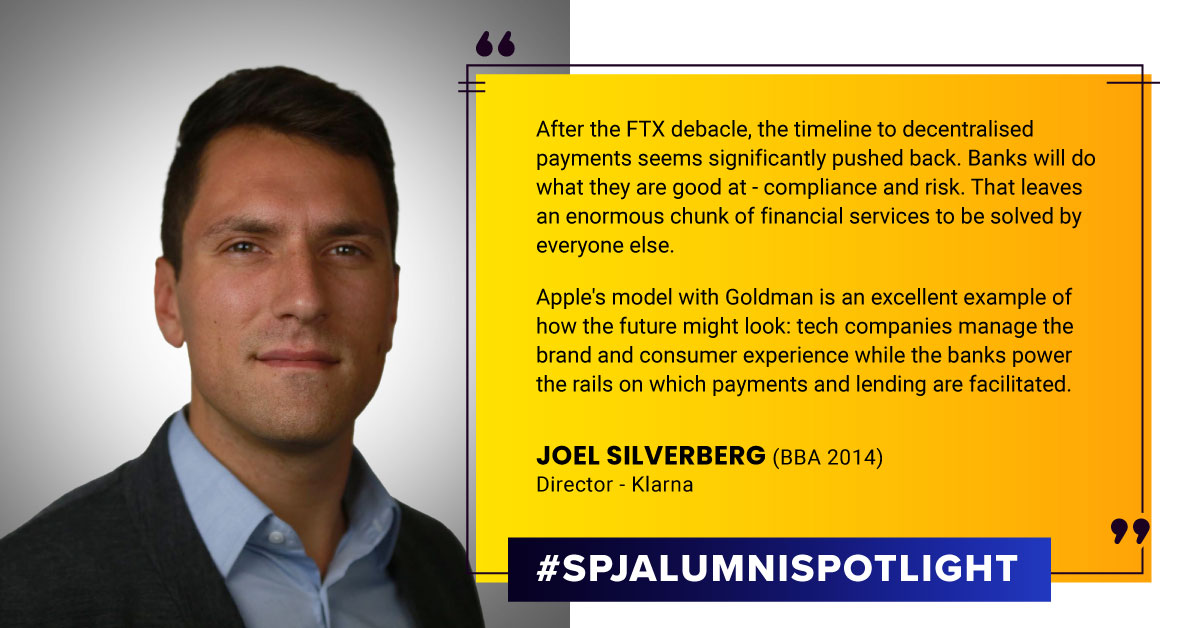 Q. How did you begin your professional journey? Did you plan your goals to thrive at such a young age?

It's funny you ask that. Definitely not! I was always ambitious in some way, but it took a long time to figure out how to channel that energy. My first professional job was answering phones for a solar energy financier called "Clean Power Finance" in San Francisco. I took a bunch of classes at night in financial modelling and eventually got a job on the financial products desk. I was fortunate and had some excellent mentors who took a bet on me. They gave me the skills and opportunity to grow and know what is possible.


Q. How did your day go as a Director at Klarna?

I describe my role at Klarna as overseeing three pillars:

1. Unit Economics - how much money we make on every loan or payment processed

2. Credit Strategy - who do we approve for credit, at what terms, and at what price

3. Product - the actual flows in the app, the conversion funnel, and customer feedback on our products

I'm lucky to have a fantastic group of leaders in charge of the day-to-day business, so my role was to enable them. To do so, I spent my day mostly in meetings on various topics. When I had time, I would often take a walk to consolidate my thoughts or jump on the phone with a peer to align or think out loud. Occasionally an urgent topic would pop up that required all hands on deck, and I would clear my calendar to work through the challenge.


Q. Klarna has big clients like Nike, H&M, and ASOS, besides various fast fashion brands. How do you plan to cater to the smaller businesses?

We often say we have two customers, merchants and consumers. Small merchants are certainly important customers for us; we cater to them via automated tools. It's all about scale. There are so many e-commerce companies, and the category is only growing. So to service them well, we have to build good tools. Similar to what Shopify or Squarespace has done.


Q. The business model of 'buy now, pay later' has attracted a lot of competition from Sezzle, Afterpay, Zip, and now, Apple Pay Later. How do you plan t

There is a lot of hype in BNPL (buy now, pay later). Klarna was doing it before it had an acronym. I've heard that Musk now wants to make Twitter a bank. If you take every company launching a consumer fintech product as competition, it's impossible to focus. There are a few we track very closely, and we outperform them by staying focused on our specific bets and building a better product. There is a recession coming, and I believe there will be consolidation. This question is, "who will emerge". In our minds, there is no doubt Klarna will be one of those, so we're just focused on making solid economics and delivering products that consumers genuinely want.


Q. How is Klarna's payment method different from the traditional credit card model?

Credit cards are what we call a "revolving product". You don't pay down your credit card bill over a fixed period. Instead, you only need to make a minimum payment to avoid going into arrears. Or, in other words, from getting charged a late fee. The trouble with this is that people get stuck in debt traps. It can take years to pay off a small debt, and the interest to pay it off can be exorbitant.

Klarna's payment methods are mostly interest and fee-free. Furthermore, they have clear payback terms (usually, you pay them back in 4-6 weeks after taking the credit out). Klarna, unlike many traditional finance players, actively eschews revenue if it means negative consequences for the consumer-- and I'm proud to have been a part of that thinking.

It's a big topic, but in summary, credit cards are a highly lucrative product that banks pay a lot of money for regulators not to look too closely at. BNPL is a challenger suite of payment products that solve for lower order values, with better data (because of its point of sale), and offer consumers more transparent terms. It's not that credit cards themselves are bad, but I think it's just been a classic case of regulatory capture until now.


Q. What does the future of digital payment applications hold down the line?

If you're following the FTX debacle, the timeline to decentralised payments seems significantly pushed back. I think banks are going to fade into the background. Fintechs, retailers, social media companies, etc., will become the front end for payments and lending. Banks will do what they are good at - compliance and risk. That leaves an enormous chunk of financial services to be solved by everyone else. Apple's model with Goldman is an excellent example of how the future might look: tech companies manage the brand and consumer experience while the banks power the rails on which payments and lending are facilitated.


Q. What did you love the most about being a part of SP Jain's BBA program? What are some fond memories you have from the four years?

SP Jain was my foray into the world of industry, something I hadn't encountered before that point, and for which I am genuinely grateful. It was a transformational learning experience in so many ways. My highlights included friendships with faculty and other students, travelling abroad to nearby countries whenever possible, and being a part of a cohort of highly motivated, kind, and intelligent students.

Q. What would you advise ambitious students who wish to follow your path?

Don't worry too much about the future. I meet many young people looking for advice trying to hyper-optimise their career paths. Enjoy your university studies, and do things that will make you happy to reflect on later. The job and success will follow from what kind of character you forge along the way.


---

Do you wish to find out how SP Jain's top alumni are making a difference worldwide? Click here to read more stories.