SP Jain's Study Abroad Program allows students to spend a semester with partner universities across the globe, including in Canada, France, Finland, China, Spain, Netherlands, and Croatia, to name a few countries, for student exchanges.
Meanwhile, students from different universities join us at SP Jain
Sydney. It assists them in enriching their experiences with global exposure through interaction with peers from vivid backgrounds, cultures, and lifestyles.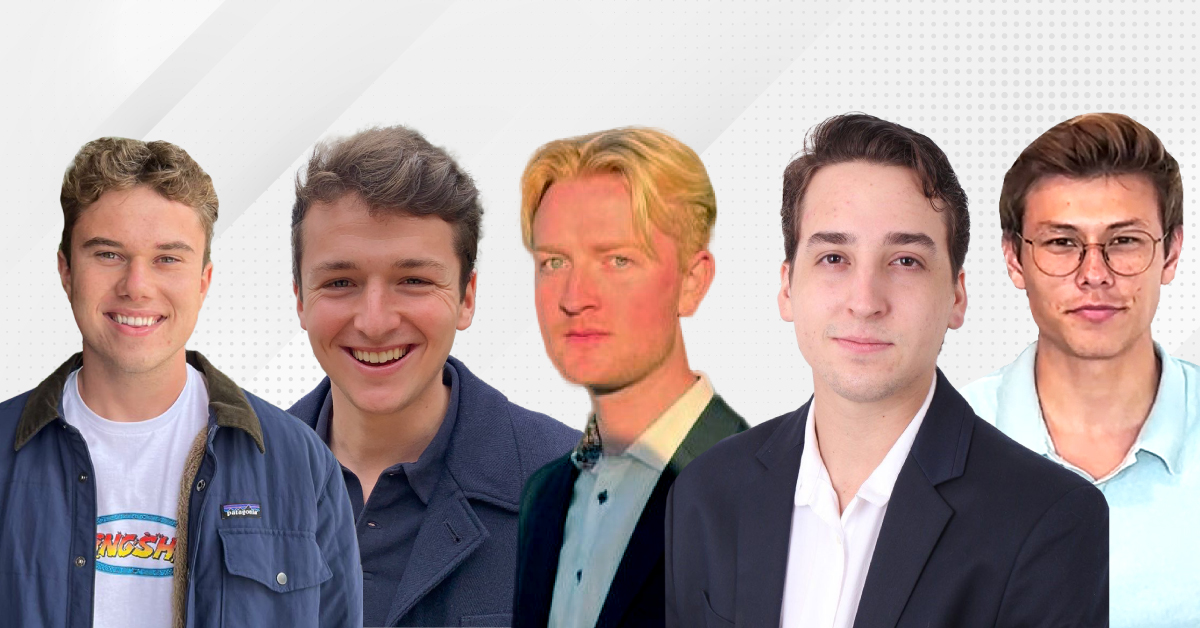 Here's what our participants Logan, Alex, Martin, Vincent, and Leo from the Study Abroad Program have to say about their memories with the Study Abroad Program!
Logan Brown
I come from Winnipeg, Canada, which is exceptionally flat and cold. Right now, there is lots of snow back home. I am an Asper student at the University of Manitoba majoring in finance. Back home, we usually skate or play hockey by the riverside for fun.
SP Jain's classes are much more personalised than that in my home university. The professors are impeccable, and they make it feel as if you are learning one on one. This small class size has allowed me to enhance my critical thinking and public speaking skills. The latter is extremely important in business and has always been a big challenge, but SP Jain has allowed me to overcome this.
The professors here have taught me how valuable education is in an individual's life. They carry rich experience in academia and industry and have motivated me to pursue my education further than I initially intended. The classes are very real in the sense that we develop real-life transferable skills, which would help us in our future careers. It means a lot to me, and I get the knowledge that will be useful for my career.
In SP Jain, I have developed a new love for Ping Pong. Every break, we would play at the Ping Pong tables, where I often meet new people, and I always beat Alex (a fellow Canadian Exchange student). Beating Alex in ping pong has taught me good sportsmanship. I often cheer him up and give him pointers after winning. From now on, whenever I look at a Ping Pong table, I will always think of SP Jain and the days of beating Alex in the match.
Alex Caballero
I come from Girona, Spain and am pursuing a BBA degree from ESADE Business School, located in Barcelona, Spain.
The exchange experience in SPJ is very enriching because I have the chance to meet, interact and work with people from all over the world, which will be very useful for my future career. The greatest takeaway from my exchange is learning the differences between cultures in approaching group projects, problems and classes. Simplistically, I better understand how people from different backgrounds live and make decisions.
One of my favourite SPJ memories is during breaks when I have the opportunity to talk and have fun with my classmates. Additionally, SPJ has granted me the possibility to live in Sydney for some months, which is an unbelievable experience.
Vincent de Ruiter
Martin Reinholdsson
I am a 24-year-old student from Kalmar, Sweden, currently studying in my third year of Business economics.
Studying abroad is different from where I have come. It has allowed me to improve my English and learn things I could not do back home, pushing me to achieve my goals.
From this exchange, I learned to do everything myself. I think I have grown as a person and can do and achieve anything I want.
SPJ has given me many memories, but meeting Dr Mo Kader is very memorable because he makes all the classes highly interactive with his industry knowledge and case studies. Besides that, my other favourite memories are with all the friends I made here. I am glad that I had the opportunity to meet a lot of new people and successfully create many new contacts.
Leo Medina
I am a 21-year-old student from ESADE Business School in Spain. But I am originally from Ecuador and have been studying in Spain since 2019.
My most impactful experience from this exchange was learning about the diverse cultures I experienced here at SP Jain. I met people from different backgrounds and places, helping me become more culturally aware in my future endeavours. My greatest learning was to balance and manage my time for upcoming responsibilities such as assignments, midterms, class exercises, and more.
One of my fondest SP Jain memories is a class exercise in my Branding & Communication lecture. I had to get anyone from the campus to work with me on the project, which helped me meet many students and interact with them. It was fun and resulted in new connections.
Wish to know more about SP Jain's Study Abroad program? Click here: https://www.spjain.org/programs/undergraduate/bba/academics/study-abroad-program