Packing for Singapore? Here are answers to some recent questions from new Jags: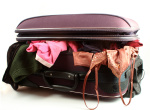 How many closets am I going to get? One.
Will I be getting extra storage some place else? Nope. You can store your suitcase somewhere else, however.
How big is the closet? It's very small, less than 2 feet wide (I think) and about 6 feet tall, with space to hang stuff and also a few drawers.
Am I able to put a suitcase on top of the closet? I don't think so. The closet goes up pretty high.
Is there space to put a suitcase underneath the bed? Yes. But not one of those super-jumbo-sized monstrosities.
How big is the bed? Twin size. Too bad if you're over 6' 2" tall. The school provides sheets and a comforter and pillow. That's all you need.
Suggestions: Think about packing in a big duffel-bag-type suitcase. These smash down nicely when they're not being used. Beware, though, that things can break in them; they're best for clothes and shoes. You will use a backpack a lot for going to class and hauling groceries. A small roll-on suitcase is really handy if you're thinking of traveling around SE Asia on the breaks. But you can always buy one very inexpensively in Singapore (like down in Chinatown for about $15). You can usually get away with bringing both a backpack and a roll-on to bring onto the plane (unless you're female and also have a purse).