Getting from Changi Airport in Singapore to the S P Jain campus is really easy -- even if you have never hired a taxi or ridden on a subway before. [The Lonely Planet travel guide says that any eight-year-old can figure out how to navigate public transportation in Singapore in about 20 minutes.]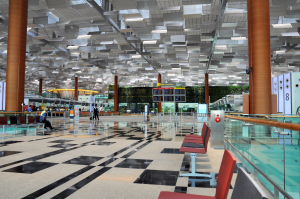 TAKING A TAXI:
Use a taxi if you don't mind spending a bit more money OR if you need to leave the airport between about 11:00 pm and 6:00 a.m. (when the trains don't run) OR if you have too much luggage to haul onto the train.
1. Change about US$90 into Singaporean dollars.
2. Follow the exit signs to the taxi area. You can bring the airport's luggage cart right with you. Join the queue (line) and wait your turn. Tell the attendant that you want a regular-priced taxi so he doesn't give you a pricey one.
3. Tell the taxi driver to go to S P Jain, which is on Hyderabad Road off of Alexandra Road, next door to Hort Park. (They pronounce it something like "Hot Pok".) Don't panic if they have not heard of the school. They all know Alexandra Road. Many taxi drivers can find the location if you give them the postal code: 119579.
4. Expect to pay about S$35 - 45 (35% extra during rush hours, 50% extra after midnight). To be safe, figure about US$55. That's for the whole taxi. So if you and a friend (or two) are arriving together, and your luggage will fit in one taxi, then you could split the fare. The trip will take about 30 minutes.
Singapore taxis all have meters. The drivers will not cheat you. (If they do and you report them, they get into serious trouble.) They all speak English fairly well. Do not tip the driver. Nobody in Singapore expects (or accepts) tips -- not taxi drivers, or barbers or waiters or anybody.
PARENTS: Your student will be really tired and possibly confused if they have just stepped off of a long flight. We HIGHLY recommend that you give them the extra money to take a taxi. The additional $50 is REALLY worth it. But just in case you need to pinch pennies, here are instructions for the train.
TAKING THE TRAIN (M.R.T.):
Take the train if you are ready to leave the airport between about 6:00 a.m. and 11:00 p.m. AND if you can easily manage your luggage:
1. Change about US$40 into Singapore dollars at an ATM or the money changer. For each US dollar, you will get about $1.24 Singapore dollars. Put another way, one Singapore dollar is equal to about US$0.80.
2. Go to Terminal 2 in the airport. If you didn't land in Terminal 2, just follow the signs. You may want to take the free SkyTrain.
3. Once you reach Terminal 2, follow the signs to the MRT, which is the train/subway. The MRT station is down an escalator from the rest of the airport. The trains run from about 6 am to 11:30 pm. Go to the kiosk and buy a one-way ticket to Queenstown MRT. It will cost about S$2.40, and the trip will take about 45 minutes.
4. Board the train. They all go the same direction, namely to Tanah Merah station. Get off at Tanah Merah, and take another train IN THE DIRECTION OF JOO KOON. Get off at Queenstown Station.
5. At Queenstown, get a taxi. It should only cost between S$6 and S$8, depending on the time of day. The taxi ride will take about 5 minutes.
IF YOU ARE ARRIVING IN A GROUP OF 3 - 6 STUDENTS:
1. You can arrange with S P Jain in advance to hire a group "maxi cab". Email Ms. Mumtaz Moiz, Head of Campus, with your flight details at least 5 days before arrival: mumtaz.moiz@spjain.org.
2. You must all be arriving at the same time, at the same terminal.
3. This service costs S$55 for the whole van, plus an extra $10 after midnight. This can be shared amongst your group.
4. The number of people allowed in a group pick-up will depend on how much luggage you have: 3 people with tons of bags, 6 people with few bags.
My opinion: why mess with a pre-arranged group taxi? Just get your group together and share a taxi from the airport whenever you happen to get there. One less thing to stress out about...
WHEN YOU REACH THE CAMPUS:
If you arrive when the gate is open, just go to the front desk ("reception") in the big, six-story building and introduce yourself to the wonderfully friendly person at the front desk. Someone will give you the key to your hostel room, and probably help you with your luggage. If the gate is locked (really late at night), call +65-91686165 (from a non-Singapore phone). If you have a Singapore SIM card in your phone, don't dial the +65 part. A security officer will come to open the gate for your taxi to enter. There are often students around the gate at odd hours, and they could let you in. Or they might let you use their local phone.
IF YOU ARE PLANNING TO LIVE OFF-CAMPUS:
You can either come directly to the campus (a good idea if it's during business hours), or go straight to wherever you have arranged to live. There is no extra space on campus for you to stay a few days while you find a place on your own. So be sure to make arrangements ahead of time. See the post on this blog ("campuses" section) about off-campus housing for inexpensive suggestions.