Reflecting back now, every moment seems to be so precious and unique which will be remembered forever.
Words can't really capture the true delight of our second-year experience at SP Jain Dubai which witnessed an exuberance of joy, bonding, and companionship. One word I can think of, to sum up the year would be 'breathtaking'.
It all started with the orientation in the leadership hall, making many new friends, meeting the amazing faculty members; there was something different with the whole new vibe. I'm sure you all remember our first GL activity in Dubai, Brunch at a Cultural Centre, that made us fall in love with Dubai instantaneously. Now, it just feels like it all happened yesterday. Yes, time flies!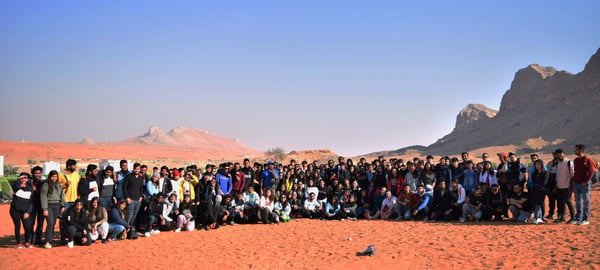 Thereafter, things kicked off, assignments and submissions started coming in. We loved the classes and hated them at the same time 😜, but had loads of fun with every professor. I'm sure we all will never forget the precious advice and life lessons shared by our kind professors. We all got some words to live by which will always be remembered in certain situations. We mimicked and copied their styles, simply having a great time with each one of our professors. They surely will be missed.
It was fascinating to see how everyone united and participated together making so many activities and events success. Diwali Night, Lunar New Year and Christmas celebration were magical. We all were enraptured with the talent seen in the Karaoke Night and the Gaming Night. Club activities, competitions and classes kept us in college from 9 AM till 7 PM. Camping was surely an experience of the lifetime, that bonfire saved our lives 😂.
It was great to witness the unparalleled bonding and companionship during the year; we together achieved various milestones and overcame a few obstacles. S P Jain's flag waived high winning various inter-university competitions. Student Council received great support from the cohort and worked well to make the year unparalleled to any other.
All these thoughts made my heart poetic, so here comes one -
We all came along and got together like a knot,
Believed in each other and never broke the bond.
We all will be always there for you,
It was a delight to have a friend like you.
Through thick and thin, together we glow,
Thanks for being there and helping us grow.
This year was so special only because of the kind efforts by our SPJ family members. Prof. Nitin Patwa, you have been a prime example of sharing kindness, we have learnt how to be calm in any situation. We have enjoyed all your classes and all the conversations shared together. You always took time out from your busy schedule to help us at any hours. Ms. Megna Kalvani and Ms. Donita Dsouza, thanks for making our time in Dubai filled with fun and energy. Every moment was worth it. You always helped us with any kind of problems and guided us throughout the year. Laarni Hare and Ms. Jacquelynne Alday, you have been a beacon of support, our program couldn't have gone so smooth without you, we bothered you for all kind of matters and you always smiled back solving all our concerns.
Next year awaits another adventure. But with this, few BEC students will miss you and wait to see you again until next time! It was an absolute pleasure to be with you and share all the lovely moments together whose memories will never fade away.
Thanks for making this year beautiful and breathtaking!
Yours truly,
Raghav Bansal
Vice President of Student Council | BEC Sept 18
This article was originally published in Valour - SP Jain's student magazine.