On March 14, 2022, we invited Mr Himanshu Agrawal, Managing Director, Accenture, to our Dubai campus as part of our Global Learning Industry Voices linked to "Leadership, Teamwork and Global Dexterity". Mr Agrawal spoke to an excited group of Year 2 Bachelor of Business Administration students who joined the lecture physically and virtually.
Mr Agrawal is a Business and Technology Consulting Leader with a proven track record of shaping, mobilising and delivering large scale Business Transformation and Digital Innovation Programs in the Financial Services Banking sector. Over the past few years, he has mobilised and led large scale Banking Divestment Technology Separation and Post Merger Integration programs. He also specialises in Banking Payments and Cards (Issuing and Acquiring). Mr Agrawal is currently part of the Accenture Middle East Banking Leadership team and spent over 12 years with Accenture in the UK.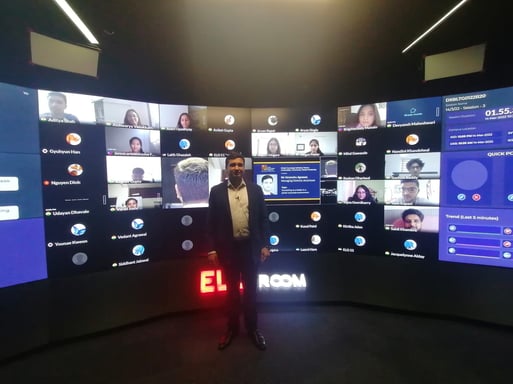 During the session, Mr Agrawal shared his passion for creating high performing teams that can deliver large and complex changes on time and within budget with a sharp focus on meeting customer needs.
As a young and aspiring business leader, Brigittecindy Manalo, sophomore BBA student at SP Jain, shares her key takeaways and extracts from the session that make an 'outstanding leader' in today's VUCA world:

1) NETWORK IS YOUR NET WORTH - Networking is one of the most essential business skills. During the session, Mr Agrawal shared instances from his own career where knowing and connecting with people in and out of the workspace was of utmost value. A strong network can take you anywhere. Knowing who to call when there's a problem, gaining a client's trust, or positioning yourself well in any situation is crucial. It is also a way to build relationships by being yourself and being generous to others.
2) HAVING AN OPEN MIND TO LEARN - Being open-minded is vital for learning and personal growth. We discussed how important it is to have an open mind to learn in the workplace. Opportunity comes to those who are open to ideas, learning, and to making the best of things. Good leaders are solution-oriented and aren't afraid of saying 'I don't know'. Being open is also keeping up to date with the new trends, adapting to ideas that aren't yours, and being receptive to new products, strategies, and business models. These are keys to success in the modern economy and workplace.
3) EMBRACE AN ENTREPRENEURIAL MINDSET & FIND GOOD MENTORS - Workplaces are often fast-paced and competitive. Embracing an entrepreneurial mindset in a corporate setting would be beneficial in the long run. Mr Agrawal suggested that we should always surround ourselves with people who can inspire and push us to do better. This way, we can learn about their success stories and failures that helped shape their careers. Additionally, it would be helpful to identify people who can mentor us. This ensures that we are accountable to someone who will guide us in our career path. Furthermore, if we want to rise through the corporate ladder, we must behave like entrepreneurs.
4) HONE YOUR EMOTIONAL INTELLIGENCE AND SOFT SKILLS - Mr Agrawal also emphasised the importance of having emotional intelligence in the workplace, enabling leaders to empathise with their colleagues, know them for their work, understand who they are as 'people', and what they offer as individuals. This enhances collaboration and communication between teams and will bring out the best in employees.
5) WORK-LIFE BALANCE – DON'T UNDERVALUE YOUR TIME - Lastly, Mr Agrawal spoke about the importance of having a work-life balance to achieve optimal results. He suggested that we spend only 8-10 hours on work and utilise the rest of our time for hobbies and relationships.
SP Jain's Global Learning Industry Voices aims to connect industry practices and classroom learning. SP Jain conducted the session with Mr Himanshu Agrawal for a course taught by Prof Dia Mitra. Our Global Learning and Student Life team – Ms Megna Kalvani and Ms Celina Bitana – supported the session.
ABOUT THE AUTHOR:
Brigittecindy Manalo (Brigette) is a Year 2 BBA student at SP Jain Global's Dubai campus. Hailing from the Philippines, Brigette is currently a global learning and student life committee member and an integral part of the student body.