In the last week of August, the Dubai campus was full of new postgraduate and undergraduate students. SP Jain staff excitedly welcomed both cohorts to the 'City of Dreams' with a morning of orientation sessions and an evening of cultural experiences.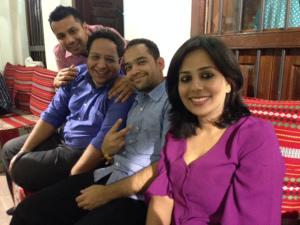 After a day on campus- each group of students took a bus ride through the city to reach the Sheikh Mohammed Centre for Cultural Understanding (SMCCU). On the drive over, the students took in the views of the bustling city. Upon arrival to the Centre, they were greeted by the Arabic architecture of Old Dubai and the subtle breeze of the Dubai Creek. After experiencing the beautiful sight of the traditional buildings and boats against the background of the modern skyscrapers, the students made their way into the Centre for the cultural experience of 'Open Doors, Open Minds'.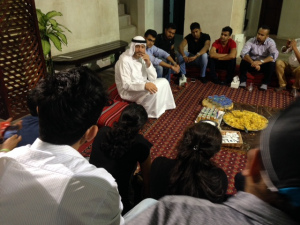 After removing their shoes, the group made themselves comfortable in the dining hall - A traditional Arabic room complete with decorative arches, Persian rugs, and floor cushions for seating. As they settled, the students were greeted by Mr. Nasif, the director of the SMCCU. He enthralled the entire batch with his deep understanding of Islamic culture and the Arab region. The speaker, with his immaculate sense of humour, was able to educate the students about Islamic history, and cultural practices that one may never find in any book. The speaker took various questions from students and answered them in his inimitable style. Mr. Nasif even adorned one of the students in the traditional burkha to explain the benefits of that attire. The night also included a welcome severing of Arabic coffee with dates, a family-style meal of delicious Arabic food, and an end- of meal cup of
tea.
All and all, it was a super start to what is sure to be a fantastic year ahead!