We had the opportunity to visit the United Nations High Commissioner for Refugees (UNHCR)'s warehouse in Dubai. The visit was organised by SP Jain School of Global Management to expose us to professional management and operation skills. At the warehouse, we met Ms Destamena Vinodh, Supply Associate at UNHCR Dubai, who helped us understand the operations of the UNHCR. It was a wonderful and fulfilling learning experience for us.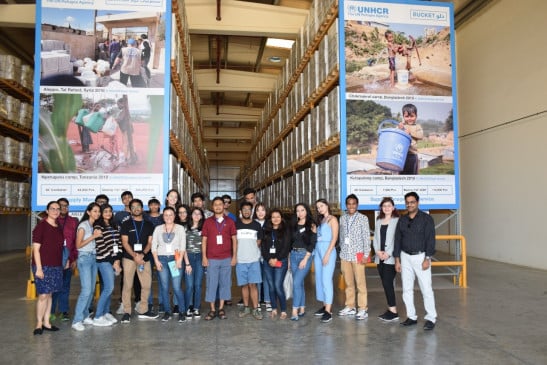 Group photograph at the UNHCR warehouse in Dubai
The UNHCR was established in the year 1950 to provide international protection to refugees and seek a permanent solution for the millions of people being displaced post World War II. After overseeing refugee crises outside of Europe, this mandate was subsequently broadened to protect refugees, forcibly displaced communities and stateless people, and assist in their voluntary repatriation, local integration or resettlement.
Here are five things everyone should know about UNHCR Dubai:
1. Biggest emergency stockpile of the UNHCR is in Dubai
Dubai is the biggest logistics hub in the Gulf Cooperation Council (GCC) and is commonly referred to as the gateway to the GCC. For the same reason, it hosts the biggest emergency stockpile of the UNHCR. The warehouse is well-equipped with leading logistical infrastructure. Its strategic location between Asia and Europe, linking the Pacific, Atlantic and Indian oceans, allows goods to be transported to affected areas by air in less than 8 hours and by sea within a few weeks. For instance, out of the 16 emergency cargo flights loaded with relief items for the Rohingya refugees, 12 were from UNHCR Dubai.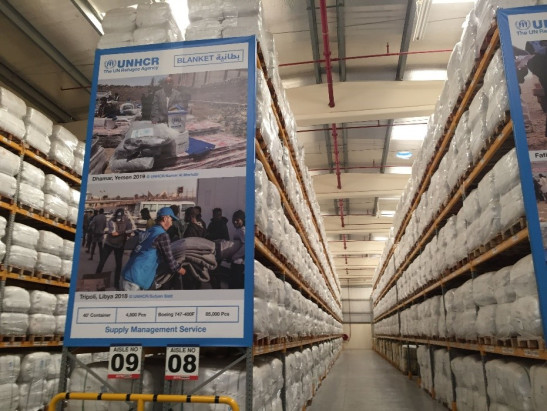 Stock of blankets in the warehouse
2. Provides protection, public information and aids relationship building
With thousands of travellers transiting through Dubai every day, UNHCR Dubai provides protection to refugees in transition. It also serves as the central point of information for the Arab nations. UNHCR Dubai communicates directly with Arabic news channels such as Al-Jazeera, Al-Arab News Channel, OSN News, and many more. With Dubai making a mark as a global business hub, the UNHCR in Dubai also operates as a centre for relationship building with businesses and corporates that help improve its operations and provide a steady supply of vital goods.
3. Smart partnership mechanism
The UNHCR in Dubai has a perfectly orchestrated system of supply chain management that supplies core relief items to intended destinations. The logistics process includes a handful of partnerships with corporations such as Kuehne + Nagel, local NGOs such as Red Crescent, and the Government of UAE. When the refugee crisis was going on in Myanmar, a request for basic items was made from the Bangladesh office and the first round of supply was provided through an airlift followed by cargo supply through the sea. Around 14 rounds of airlift were made within a span of 3 months, where the supply was transported to several distribution points and then, with the help of local partners, finally distributed to the concerned people.
Such strong partnerships have allowed the UNHCR's operations to be efficient and cost-saving. According to Ms Vinodh, Kuehne + Nagel's contribution for the past 15 years has been key to the overall success of UNHCR's operations. Suppliers also play an important role in overall operations. The stocks are replenished every 15 days, where goods are received from India within 13-14 days and from Pakistan in 3-5 days.
While the UNHCR only provides basic core items, other necessary items and services such as healthcare services, education material and perishables are provided by entities such as the UNICEF, World Food Programme (WFP), and Médicins Sans Frontières (MSF).
4. The facilities are a contribution from HRH Shaikh Mohammad bin Rashid Al Maktoum
The UNHCR stockpile in Dubai was set up at the International Humanitarian City - an initiative to host humanitarian organisations by the government of Dubai. It currently hosts nine United Nations agencies and more than 85 NGOs. UNHCR Dubai has a total of 14,500 square metres of warehouse space that can meet the basic needs of 300,000 people. It also stores vehicles, safety items, security items and core relief items. The closest airbridge offers free airlifts through special aircrafts provided by His Royal Highness to relief agencies in Dubai.
5. Management of core relief items
Core relief items include family tents, blankets, kitchen sets, jerry cans, buckets and sleeping mats. We were amazed to find that the core relief items displayed and provided by the organisation are of high quality. The family tents can host up to five family members and are carefully placed to ensure the best environment for refugees. To ensure that the tents are set up properly, experts are brought in to train local volunteers. There are regulations in place on how the tents should be set up such as the distance between tents and the area surrounding the tent to ensure that the living conditions are sustainable. Apart from that, the goods are evenly distributed by utilising various identification methods.
Other basic needs that are climate specific are provided by neighbouring countries like Jordan (as in the case of Syrian refugees). Innovation has also played a hugely supportive role – the UNHCR stocks solar lamps and portable LEDs with mobile chargers for refugees.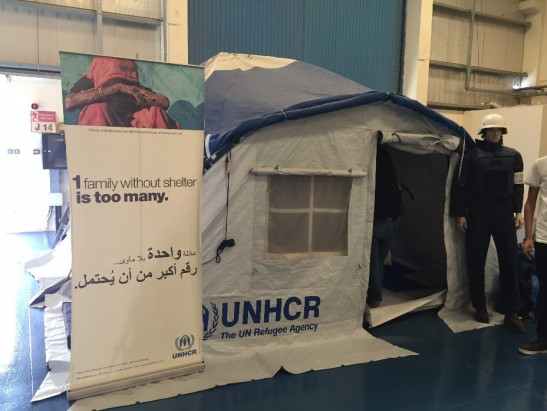 Tent for a family of five
As a student currently studying operations management, the experience I gained at UNHCR was overwhelming. The overall operations of the UNHCR during crises is worth studying. The visit helped me realise the magnitude of effort that goes into taking care of refugees, the people involved, and the abundance of supplies.
A huge shout of appreciation to donors towards the cause and His Highness for the contribution of facilities and infrastructure to support the UNHCR!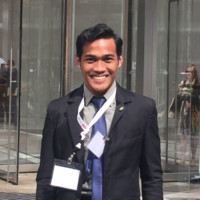 About the author
Ahmad Nadzry is an Economics student at SP Jain School of Global Management, where he will be graduating in December 2020. With a passion for sustainable environment and humanitarian causes, he has interned in a firm that invests in renewable energy and has volunteered with several NGOs and social enterprises such as AISEC, Kalsom Harapan, Suncrox Solar and the Red Cross. Other than the cycling track, he can also be found on LinkedIn.