The Futsal Field came alive on Saturday 3rd October 2015! The 5-A-Side Football Tournament brought out seven talented teams from our BBA15 & GMBA Batch vying for victory. Team Bravura, The Epic Team, INRI FC, Man Titty United, MBA 1, runner-ups Viet Nam and of course our event champions, Friends FC (Juan Sebastian Garcia, Robin Deane, Arvind Mahesh, Aban Kalandoor, Bhavya Sethi and Pol Arnella) were the participating teams.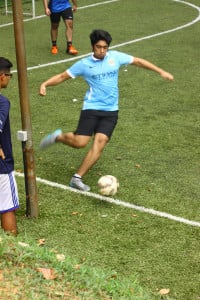 After a punctual start at 11am, the tournament was underway. Seven intense matches were played. There was a great display of friendship, rivalry, a little competitiveness and a lot of fun on the field. Each match lasted fifteen minutes and was refereed by Varun Sule and Yash Lalchandani. The final scores were collated by the Sports Club Secretary, Franchesca Soto. This event would not have been a success without the dedication and commitment of the Student Council and the Global Learning, Sports Club members.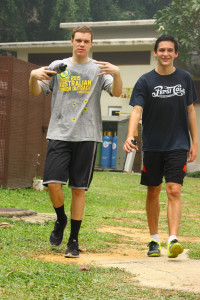 The students really came out to support the tournament, chairs lined the side of the field, blankets and lots of cameras. The jaguars really brought to life the Five-A-Side tournament and definitely made the players feel motivated and hyped up. The seven teams out did themselves, but in the end it was Friends FC that came out victorious against Viet Nam in the twenty minute final match. Friends FC walked away with grand cash prize after winning the final 3-1.
In summary, it was a successful and fun-filled event. Both participating students and spectator students had an enjoyable evening.
Student Says:
"The tournament was entertaining and I enjoyed myself because my friends were most of the players on the field. I also enjoyed the friendly atmosphere of the crowd and the music close to the field."
"I think it was fun to play soccer for a whole day against different teams."