Students from the S P Jain Undergraduate batch in Singapore were invited to participate on a panel by the Channel NewsAsia to discuss the most important global issues that happened in 2015. The event was held at the National Gallery and was called World Review 2015.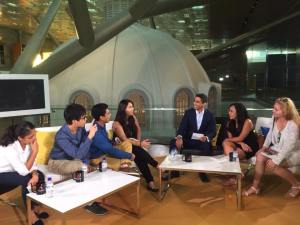 Date: 23rd January, 2015
The group of panelists invited to participate were beyond exceptional. It was composed by Dr. Michael Pulch, the EU Ambassador in Singapore; Mr. Ong Yong, Ambassador-At-Large and also the Executive Deputy Chairman of the Rajaratnam School of International Studies; Ms. Isabelle Barras, Head of the region delegation of the International Committee of the Red Cross in Kuala Lumpur; Mr Song Seng Wun, Regional Economist with CIMB Private Banking; and Dr. Farish A Noor, Associate Professor at the Rajaratnam School of International Studies (RSIS).
Topics like the migrant crisis, climate change and terrorism were the focus of discussion. The students were well acquainted with the topics of discussion raised by the panellists as these had been the topics studied in class. It was however interesting to see the point of view from the esteemed panel.
Among other interesting questions, one student asked how Australia should adjust to the new agreement on gas emissions. Mr. Ong, from the panel stressed that politicians in ASEAN countries should look beyond short-term solutions to climate change. The most important idea is that the population needs to be more aware of the consequences of actions on the environment. Another student raised an interesting concern to counter terrorism. Dr. Pulch believes that the information needs to be better analysed and shared. The panel also agreed that the better resolution is a softer approach and to understand what motivates terrorists groups.
Both the students and their Professor had a wonderful evening. It was a very special and well appreciated experience.