Part of being an informed Global citizen is fostering cultural understanding. Most countries seem to have a deep and complex relationship with their indigenous people and Australia is no exception. When it comes to national identity we all stand proudly behind the ancient, unique and mysterious Aboriginal culture and iconography. However when there are difficult social issues in indigenous communities it is easy to forget this magnificent inheritance to Australia and the whole of the world.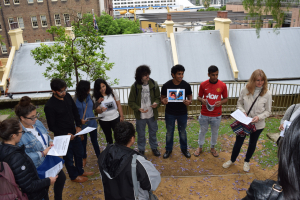 Batch: BBA-12 & BBA-13 | Date :5th Nov.2015
The Dreaming Aboriginal Heritage tour at The Rocks has been renamed Giba-Nura, which means Rock Country in Gadigal language.We went on this tour commencing at the Museum of Contemporary Art and weaving through the foreshore and narrow pathways of The Rocks. We were trying to understand the narrative and the hopes and dreams of a people we only had read about and seldom met.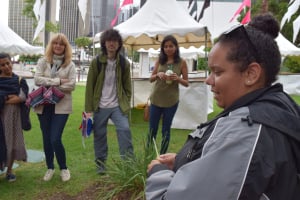 Our Aboriginal guide Kalkani Regina taught us about Aboriginal identity and experiences as she traced events through history. We nibbled on a local, spikey plant, realising with bush wisdom we could keep hydrated and survive in the harshest of conditions.
We practised rolling our tongues around the pronunciation of long and old words that are the Aboriginal place names.We talked about initiation rites, shell middensand being in harmony with nature and respecting the resources.
The Rocks Discovery Museum allowed us to explore and engage with Aboriginal artefacts: A collection of boomerangs and kangaroo pelts were amongst these. Our imaginations were taken into a different world and a way of being so different to our own. We began to understand a different perspective.