The road trip to Canberra is fairly long for a day trip, and if you are vegetarian the options are even more unpalatable at the roadside stops. We had a secret weapon though, we were carrying our own picnic lunch in the event that hunger would strike while we were far from home.
It was a prompt departure in the half-light, at 6.10am which enabled an 11.00am arrival at the NASA- Canberra Deep Space Communication Centre (CDSCC).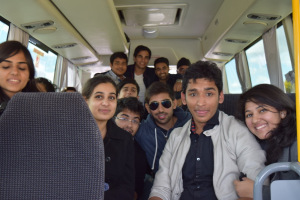 Date - 24th Sep.,2015 | Batch - BBA'12
When Tidinbilla Tracking Station (CDSCC)comes in to view for the first time- it is an awesome sight. Here, the massive antennae dishes tilt their giant heads and listen intently to outer space. It is a spine tingling business. I considered the size of our small bus trundling along to the backdrop of'out there' with its incomprehensible magnitude. To my relief- as I was beginning to think we were lost forever- Glenn Nagle- came out to greet us- his hand outstretched in a friendly welcome.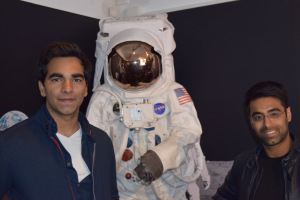 Glen is the Education and Outreach Officer at the site, with his colleague Dr Korinne McDonnell. CDSCC works with NASA and other space agencies to provide two-way radio contact with dozens of robotic spacecraft and space telescopes exploring our solar system and voyaging beyond. The listening ear antennae are receiving data from space craft that may be millions and even billions of kilometres from Earth. The signals received are cleaned of random space noise and sent via dedicated optic fibre lines to a lab in Pasadena, California, to get the detailed images and data to send to the mission scientists and a variety of websites.
Glen wryly shared with us that the project management at CDSCC was complex, with large scale administration needs between international space agencies. The historic role the station played in the moon landing is well documented and celebrated on site. Visiting Tidinbilla was a fascinating insight into our future. Glen ended his presentation with a surreal image of moonrise on Mars. Could this ever be home?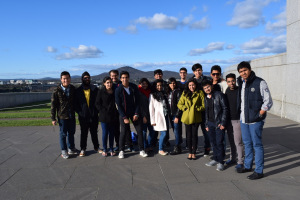 A visit to Parliament House anchored us once again to planet Earth. The politicians were away and probably coming to terms with the shift in loyalty to a new Prime Minister. Our guide whirled us through the Houses, on to the rooftop and through the bright and spacious design of the big power house, that is so Australian in symbolism and adornment.
Our last stop was a 40 minute drive out of Canberra,at a boutique vineyard. The owner Sarah- greeted us on arrival, and spoke to us about the beautiful Four Winds Vineyard, management challenges, risks and marketing and the long hours that are the labour of love. Sarah guided us through the wine tasting- the Shiraz and the Riesling were highlights of the region. The table had been laid out with samples to test our sense of smell... cinnamon, black truffle, cherry… It wasn't quite the movie "Somm" but our journey had begun!