The BBA cohort of September 2017 visited the Ferrari World and Sheikh Zayed Grand Mosque in Abu Dhabi, the capital of the United Arab Emirates, on 21st September 2018.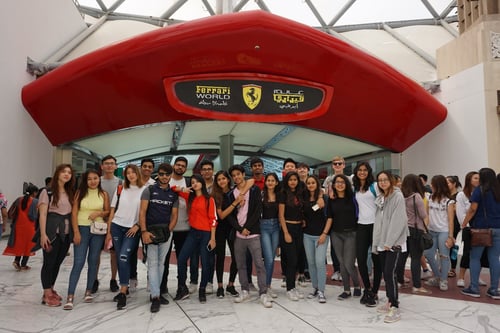 We started the day with Ferrari World. It's an epic theme park that is packed with extreme rides – from the fastest roller coaster to the highest roller coaster! I have acrophobia and I tend to back out of things that seem too high above the ground but to do it with a large group of friends is a different kind of experience. I ended up going for most of the rides, even the fastest one, and eventually finding a lot of courage in myself that I never knew I had.
I believe the aim of participating in such school activities is about overcoming your fears together and creating memories that will make you happy when you look back. My favourite ride was the karting one. Even though I wasn't so good at it, it has been one of the most spectacular experiences for me.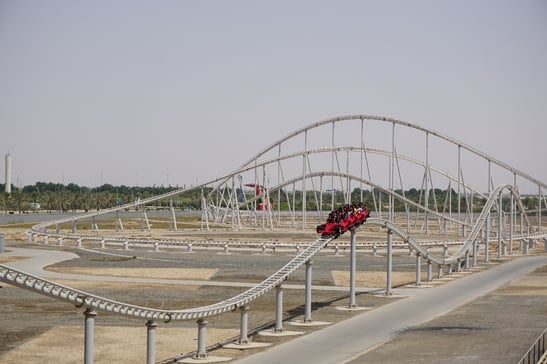 After a thrilling experience at Ferrari World, we went to the Sheikh Zayed Grand Mosque. Before the visit, I told my parents about the activity and they were excited. They mentioned that they had always heard about the mosque and how beautiful it is. I had seen the mosque in many travel blogs and on Instagram, but that's nothing compared to the real-life experience. It was beautiful seeing it with my own eyes. I was star-struck even from afar. As soon as I entered the mosque, I felt at peace. Every detail inside the mosque showed how much craftsmanship it takes to build such a beautiful piece of architecture. The mosque is beyond beautiful.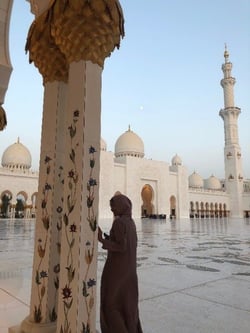 This trip has been one of the most memorable experiences for me and I'm sure for my peers as well. Both the destinations exceeded my expectations and I would love to visit them again in the future.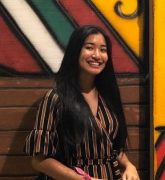 About the Author: Napassanan Chan-udom
Napassanan Chan-udom is a student of SP Jain School of Global Management's BBA Intake of September 2017. She was born and raised in Thailand. She is passionate about sustainability, ethical business, reducing waste and carbon footprints. She believes any business can make a sustainable profit and, at the same time, value environment and give back to society.