Mehrangez Rajabova (BBA 2023), affectionately known as Mera, hails from Tajikistan. Motivated by a profound passion for business and management, Mehrangez embarked on her journey with SP Jain Global's BBA program. Join us as she unveils her enriching tri-city experience, immersing herself in a diverse cohort, embracing various cultures, and learning from globally acclaimed faculty members.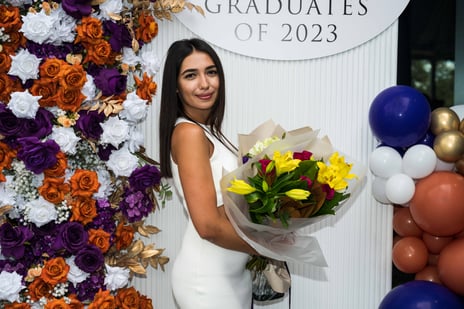 Why did you choose to pursue SP Jain Global's BBA program?
I chose to pursue the BBA program because of my strong interest in business and management. I was drawn to SP Jain Global because of its distinguished reputation, and its emphasis on global exposure resonated deeply with my aspirations. Being passionate about global business, the prospect of immersing myself in diverse environments, studying under experienced professors, and collaborating with like-minded individuals around the globe excited me immensely.
How was your experience sharing a classroom with peers from different countries?
As someone naturally curious and interested in learning about different cultures, getting exposure to diverse perspectives and problem-solving approaches was invaluable to me. It allowed me to broaden my understanding of the world and appreciate diverse ways of thinking.
Where did you intern during your course duration?
During my second year at SP Jain Global, I embarked on my first internship at Amazon, followed by Coca-Cola, and a consultancy company based in Dubai. Through these experiences, I gained valuable skills in project management, data analysis, and problem-solving, and I could apply the knowledge gained in my business courses to real-world situations. Additionally, working at these top-tier companies allowed me to learn from experienced individuals and expand my professional network. Overall, I am grateful for these internship opportunities, as they helped me clarify my career goals and provided me with a strong foundation for future success.
What are the standout memories you have from your undergraduate journey?
One of the most memorable memories that bring me joy is our overnight camping trip in Sharjah during our second year. It was an incredible experience that allowed me to bond with my classmates and create lasting friendships. I remember we had entertaining shows that showcased the local culture. As the night went on, we gathered around a campfire and sang songs while roasting marshmallows. It was a truly unforgettable experience, and it's something that I will always cherish as one of the highlights of my time at SP Jain Global.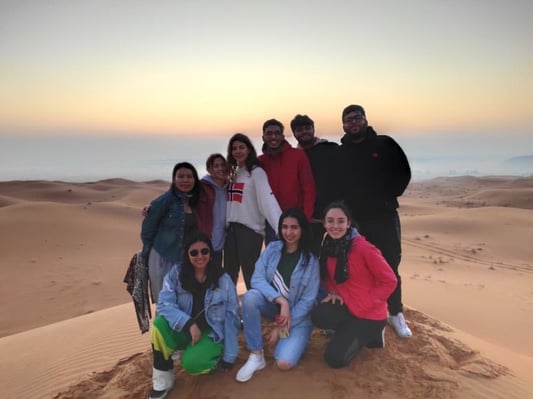 What were your experiences at SP Jain Global's Singapore, Dubai, and Sydney campuses like?
During our first year at SP Jain Global in Singapore, I was captivated by the diversity of our cohort. Students from all over the world came together to pursue a common goal, and it was fascinating to learn about their cultures and backgrounds. We explored Singapore together, visiting iconic landmarks like Marina Bay Sands and Gardens by the Bay and indulging in the flavours of local cuisine at hawker centres. It was also exciting to embark on our academic journey with challenging coursework and engaging discussions that encouraged us to think critically and creatively. Looking back, I feel fortunate to have had such an enriching first year, and I cherish the friendships and experiences I created along the way.
My second year at SP Jain Global introduced numerous opportunities to enhance my quantitative skills, despite my natural inclination toward non-numerical subjects. Though it was challenging at times, I was fortunate to have a supportive group of classmates who were always willing to lend a helping hand. They patiently explained mathematical concepts and formulas to me, going above and beyond by providing additional guidance outside of class. This experience taught me the value of teamwork and the importance of building strong relationships with my peers.
As I reached the end of my course, a realisation dawned upon me— I feel pretty comfortable in Sydney and am willing to take my career to new heights in this bustling and opportunity-rich city. I believe I am where I am meant to be. I cannot be more grateful to SP Jain Global for granting me this life-altering opportunity.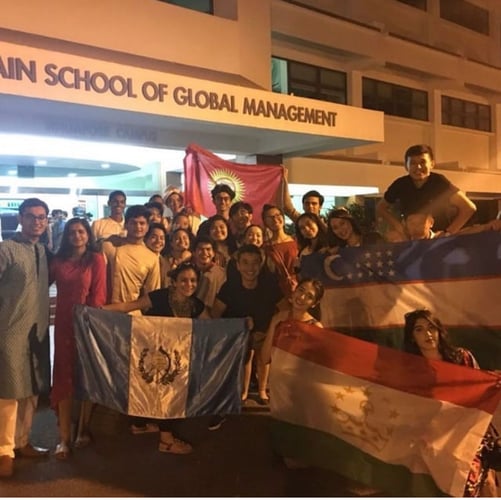 Who is your favourite faculty from SP Jain Global, and why?
When it comes to professors who have made a significant impact on my time at SP Jain Global, Professor Nitin Patwa comes to mind. Not only does he possess a remarkable ability to simplify complex concepts, but he also shows genuine concern for the well-being of his students. He goes above and beyond to ensure that we understand the material and feel confident in our abilities, often by providing extra resources or holding additional make-up sessions.
Additionally, Professor Mo Kader, who teaches at the Sydney campus, is undoubtedly another standout faculty member. He brings a wealth of knowledge and expertise to his classes, which are always highly practical, engaging, and relevant to real-life situations. He is approachable, understanding, and always willing to guide and support his students. His passion for teaching and commitment to his students is truly admirable, and I feel grateful to have had the opportunity to learn from him.
Do you remember your Orientation Week? What are the fond memories you still have from the week?
I remember feeling super excited as I stepped into the hall during our Orientation Day in Singapore. Sighting numerous students bustling around, exchanging smiles, and introducing themselves made me happy. It felt remarkable being surrounded by such a warm and friendly community, embarking on this new chapter of our lives together.
The Orientation Day at SP Jain Global left a lasting impression on me, as it was incredibly well-organised and thoughtful, and the program office did an excellent job of creating a welcoming and inclusive environment for all new students.
What transformations have you noticed in yourself since the start of the program?
Throughout the program, I have embarked on a journey of self-discovery, uncovering insights into my strengths, weaknesses, and core values. Moreover, the coursework and experiential learning opportunities have played a significant role in this growth. Notably, I have witnessed a remarkable increase in self-confidence, as the program has encouraged me to venture beyond my comfort zone and embrace new challenges, instilling in me a greater sense of assurance and belief in my abilities.
What would you advise the new jaguars who wish to pursue their journey with SP Jain's BBA program?
Be brave, believe in yourself, and just do it. Everything that comes in your life is for a reason, season, or a lifetime.
Are you looking to hone your skills with SP Jain's 4-year full-time undergraduate BBA program? Find out more here!