Nguyen Hoang (BDS Intake of 2019), popularly known among his classmates as Louis, just completed his Year 1 at SP Jain and landed an internship at AI Australia, a dynamic Sydney-based brand committed to seeing artificial intelligence change the way we live and work. Let's find out more about his journey.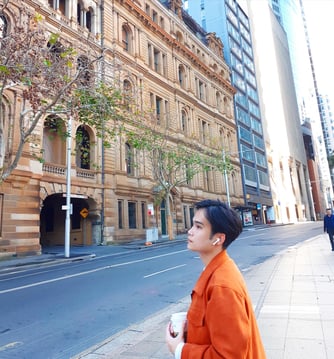 1. Congratulations on your internship, Hoang! Could you tell us about your role at AI Australia?
Hoang: I am currently working as a Digital Business Analyst Intern at AI Australia. To be more specific, I'll be participating in developing some digital software like ChatBot and Smart Recommendation Systems that already existed in the system using Python built-in libraries, C#, and .NET Framework. I will have a chance to collaborate with the professional team of AI Australia for 6 months and get familiar with Microsoft Azure services since the company has a strong partnership with Microsoft.
2. How did you secure this internship?
Hoang: I came across AI Australia while I was reading a news article about the future of Artificial Intelligence in the next 10 years. When I went to their website, I was taken aback by how wonderful this company is. And guess what? They even had some opportunities that would fit my abilities!
I was a bit unsure at first since the job description specified that they were looking for applicants with a postgraduate degree. But eventually, I decided to apply anyway and wrote them a letter about how I'd love to work with them. "Nothing ventured, nothing gained" - I thought. Fortunately, after 4 rounds of tests and interviews spanning 2 months, I ended up being a part of AI Australia's team. I was so thrilled!
I would like to say a big thanks to all the professors at SP Jain who trained me and helped me overcome the challenges I faced during Year 1 at university. The school's curriculum is very practical with a hands-on approach, and I believe that the training I got at SP Jain is what helped me land the internship at AI Australia just after Year 1.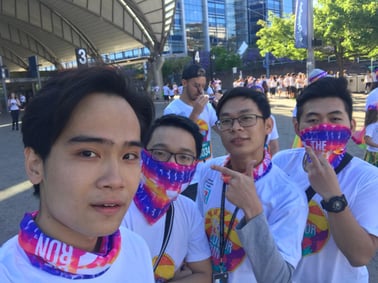 3. If you were to choose one aspect of the internship that stood out for you, what would it be?
Hoang: If I were to pick just one, I would pick the network that I am building this year. As my project manager already emphasised during my interview with him – "Internships are not about skills or about how long you stick to your computer screen; they are all about the way you connect to the rest of your team and communicate to reach a conclusion. If you come to a company with all the heads down, you better leave it as soon as possible."
Similarly, I strongly believe that maintaining healthy relationships at school is way better than competing for school grades. At the end of the day, like-minded colleagues go with you on important projects, the school grades do not.
4. How has this internship been beneficial to you? Whom have you learnt from the most?
Hoang: I started my internship just 2 weeks ago, so I am still exploring my role and the company at the moment.
But I do have an answer about the person who I have learnt from the most. That would be Hai Nguyen (BDS Class of 2019) aka my roommate, who has always been an inspiration to me. He encouraged me to give everything a shot, no matter how tough the task is going to be. Currently, he is also working just 2 buildings away from me at Faethm.ai – what a coincidence!
If you are in Sydney anytime soon, you should definitely hit us up and maybe we can have lunch together!