Semester 4 in Dubai is getting better week by week. SP Jain is reinforcing their promise of "one activity at least per week". On our first weekend after New Year, a camping was organized in the desert at Liwa, Abu Dhabi. This was an amazing experience, very different from our usual outings. Far away from everything—no network, no internet, completely away from our comfort zones.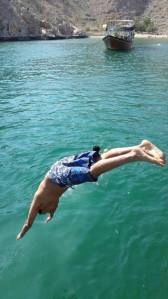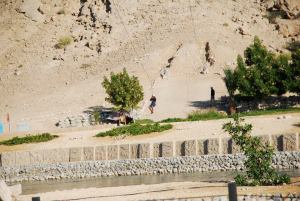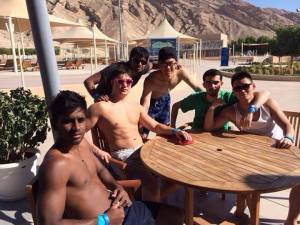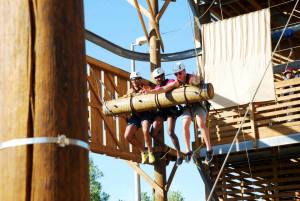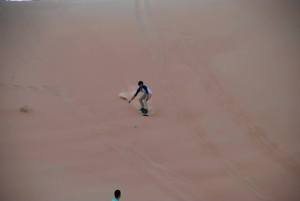 It was a perfect opportunity to get together among friends and relax. There, we went for a mini desert safari with the organizers and their powerful 4X4 and we could also do sand boarding on the fine sand of this desert. Before sunset, we had to set up our own tents with the guide of the organizers. At night, we made a camp fire to keep us warm in this cold weather, we had "shisha" and BBQ was there for dinner. The night ended with some scary story-telling while everyone was sitting around the camp fire and with forgetting, there were singing and dancing as well ☺
The following week, we went to Oman—another country to the border of UAE. This activity was mainly on water. We had to take a wooden big boat at the port of Oman and the sailing began. We travelled for like 45 minutes and then we stopped somewhere in the deep sea near the shore of a beach. Many activities were on the menu there. We could do deep see diving, a trip on speedboat, on banana boat and kayaking. We could also take a small boat and spend some time at the beach. There was supposed to be fishing also but, it was cancelled because of unfavorable weather conditions. Even there, lunch and snacks were served. Who would imagine we had all these in the Middle East?
However, the best was yet to come. After this, a trip to Al Ain in Abu Dhabi was waiting for us. This was a very busy day for us. First we went to Wadi Adventure Park. There, we did rafting at first, kayaking, zip wire and other kinds of challenges including a giant swing. This was a good way to challenge ourselves if we are scared of height. We left there and we headed to Jebel Hafeet—a mountain where we could see the whole of Abu Dhabi. Frankly speaking, I usually see this kind of view only when I'm in the plane! Watching the sunset from this place was actually breathtaking. It was night already, but the journey still continues. Then, we went to a water spring on the mountain where hot water flows naturally. It was really a good experience for all of us. The best part is that all these activities were fully sponsored by SP Jain. More outings are on the calendar for the following weeks, including some industry visits as well.
~Jevin BBA12