During the first week of the summer break students of S P Jain went to the Philippines for an outreach program. The program was an eventful and heart-warming experience that helped every one of us grow. Therefore it seemed fitting that upon completion of the outreach program we had the opportunity to meet with Senator Bam Aquino a social entrepreneur and a Senator of the Philippines. Sen. Aquino is the Committee Chair for Trade and Social Development in the Philippine Senate and the youngest Senator ever voted into the Philippine Upper Chamber election history).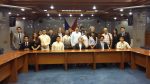 During the first part of the visit he gave us a brief introduction of himself and explained to us his work as a social entrepreneur and the importance of social enterprises. It was inspiring listening to this as it made us all want to contribute to society and make the world a better place. It also taught us that it is possible to earn money while helping society at the same time. The second part was a tour around the Senate. Senator Aquino showed us around and explained briefly how the system works in the Philippines.
Meeting Senator Bam Aquino is a memory I will cherish. He taught us all valuable lessons and inspired us all to become future social entrepreneurs.
~ Samdu Ngedup BBA2013