Undergraduate students of the BBA 2014 Intake ventured out to visit the BurjKhalifa as part of the Student Life experience in Dubai.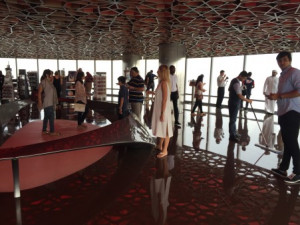 On their arrival,they were impressed with the great hospitality received from the guides and securities which made the students very enthusiastic to get at the top of Burj Khalifa! After the security check, a couple of students stopped to take photos with the model of the Burj Khalifa while the rest queued to enter the elevator.
The students experienced being in the fastest lift in the world. The lift was so fast that it reached the 124th floor in exactly one minute. After reaching the top, 90% of the students immediately grabbed their mobile phones and took loads of selfies and group photos.
After looking at the amazing view from the 124th floor, the students moved up to the 125th floor through a staircase which was covered and beautifully lit up. They bought souvenirs, took pictures and brought home memories that they will cherish forever.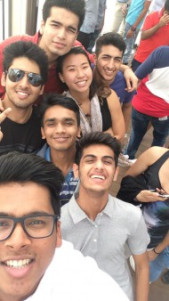 On their way out, they got a chance to see the structure of the building, the blueprints and engineering – a glimpse of the creation of the world's tallest building.
The day wasn't over yet for the students, after witnessing the world's tallest building; it was followed by a stroll to the world's largest mall – Dubai Mall.
Some shopped, some ate and everyone had a great time. The day was truly a marvellous, entertaining and an informative day for the BBA Batch of 2014.
Student Says:
"Being on top of the world's tallest building was an engaging and a breathtaking experience. Dubai's architectural skills and methods never cease to amaze me. It taught me a lot too, the story behind the development and how much hard work was put into it. It was an experience worth being a part of. "