It was a bright sunny afternoon, when the students set out to experience what the desert has to offer. Each student just as excited as the other, they reached the desert, to find a line of SUVs waiting for them to get on board. By 5 pm, one by one the cars zoomed off into the desert with a group of seven students each. After a thrilling ride they reached the desert base camp, only to find the breathtaking view of the sun setting behind the magnificent stretch of the desert. Students took pictures with the falcon, rode the camel, got personalised souvenirs, and had henna tattoos done on their hands among other fun activities.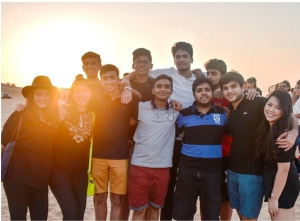 DATE: 30th October 2015
As the stars took over the sky, the center stage lit up and was ready for an exciting line of performers to dance to the Arabian music. One by one the performers came and amazed the students. A man on stilts amazed everyone with his many stunts, the dance of fire where a man blew fire out of his mouth and performed tricks with it, the acrobat who touched his feet and kept rotating in circles for an impressive few minutes, lastly, followed by belly dancer that amazed everyone with the beauty of the dance form.
After this visual treat, it was finally time for the students to feast on the widespread variety of food items the camp had to offer. After a scrumptious meal, the students made their way back to the buses wrapping up a well spent evening.
Student Says:
"It was a great way of introducing us to the great heritage of the Arab culture. Interacting with the Safari Camp employees was an eye opener into the Arab world. Right from the Camel ride, the local cuisine, the attire and the Henna Tattoos, it all displayed the ancient skills and patience."