The BBA students were very excited to visit the eco-friendly and sustainable city called Masdar city. This was especially because they had learnt about it earlier in 'Corporate and Sustainable Social Responsibility' (SCSR) in semester Two in Singapore and were really fascinated by it. This industrial visit was aimed at sharpening the SCSR aspect of an organization amongst the students.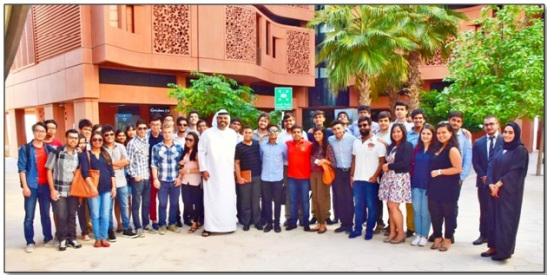 It was an hour and a half long bus ride to Abu Dhabi where the Masdar City is located. Once the students reached there, they all gathered in a common auditorium and briefed about Masdar and its various projects. It was very interesting to learn about a different perspective on sustainability and their experiences. The students were very interactive during the session and discussed about many important topics such as Masdar's global marketing ideas, various solar plants installed, government support, mobilization of funds and other various projects under Masdar.
Post this session, the students were guided through the Masdar City and they saw and learned about the various techniques and ideas used to build this sustainable city. The centre of attraction was the self operated cars which helped people commute within Masdar city. These driverless cars ran on solar energy. The students were surprised that such a city could be executed so well. It was a long ride to and from Masdar city but totally worth it.
STUDENT TESTIMONIALS:
This trip to Masdar city was really informative. It instigated us to think of many ideas to help build a sustainable society. The people who guided us were really well informed and were willing to help us understand the new technologies and methods better. This city was one of the coolest things we have seen here.