The past 8 weeks I spent at the Mondelez Head Office in Mumbai have been a truly flavour-packed experience. During this time, I got an opportunity to work on a lot of diverse projects with a small and dynamic team. It helped me a lot in realising what I am good at, what I can improve on, and what I still have to learn about in the FMCG field of e-commerce and marketing.
Today, I am going to unpack those 8 weeks for you down to the three most impactful bites.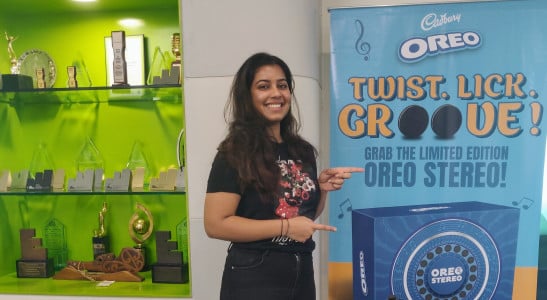 Bite One - Be Organised when Juggling Multiple Timelines
Amidst larger pipeline projects like the Joy Deliveries website, Amazon brand store, and the seasonal campaigns, each week at my internship was laden with at least 30 smaller, spontaneous tasks. Working alongside Mansi Bajaj (E-Commerce Account Manager, PaxCom) showed me that no task is too small to write down. My time here also showed me how important it is to remain proactive and to initiate new things to keep the atmosphere exciting and fulfilling.
Plan backward from the end goal to the first step and map out timelines and deadlines clearly for the month. Additionally, always leave flexibility for delays in order to avoid a domino effect. The key to getting stuff done is often not how hard you work, but how organised you are.
Here is a summary of how my time was spent: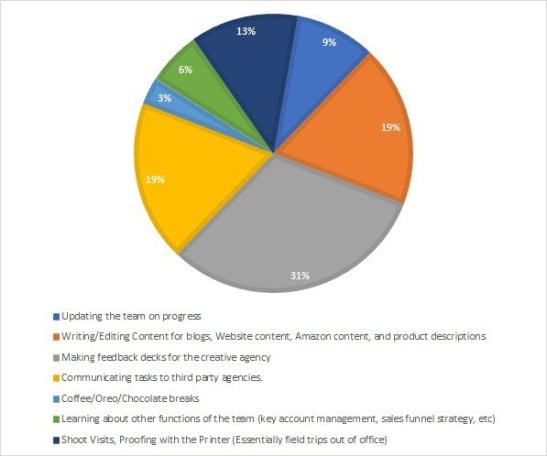 Bite Two - Communication is King
We all know that content is king in marketing. But the quality of this content burns down to giving foolproof instructions, having consistent follow-ups, and giving prompt feedback. I learnt this first-hand when organising the Oreo Stereo internal brand activation, where I had to liaise with website developers, designers, packagers, and printers on a daily basis for all the different components of the campaign. I learnt quickly that when mistakes happen, it is not the end of the world. While being sorry is important, righting the wrong ASAP without pointing fingers and getting ruffled is the key to resilience.
Being Nice vs Being Firm - The Balancing Act
When it came to finding my 'corporate voice', it definitely took a few phone calls before I could find a tone and approach that allowed me to assert deadlines and expectations while being nice and approachable too. This is an important balance to find, as the relationships we have with agencies and suppliers are deep-rooted and symbiotic. We get what we give.
Listen, Learn, Apply
"Did you always have work to do?"
Nope.
"Did you get bored?"
Not really.
Whenever I had some free time, asking other colleagues what they were working on was a great chance for me to learn about things like UTM, Account Management, Competition Analysis and Sales Funnel Strategy for campaigns like Father's Day and Rakshabandhan.
My tip: Listening and taking notes is great. But if you take it a step further and apply what you learn, it lets you test your knowledge while also telling them that you are serious. This can be as simple as coming up with a list of ideas for upcoming advertisements, or as complex as building a marketing plan and getting a second opinion on it.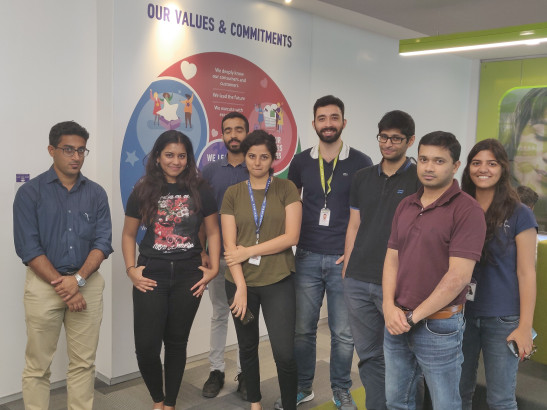 Bite Three - Change is Constant
I was surprised to know that more than half the people on the team were less than 6 months old. During my time there, I saw two people leave and three people come in. This dynamic fluidity showed me that no one is irreplaceable. But the mark left behind remains long after you have moved on.
Akash Tekchandani (Digital and CRM Manager, Mondelez) was someone who came in with a storm of ideas and knowledge. His approach showed me the importance of doing your research, being on your toes, adapting to newness (people, company culture, workflow), and committing fully to your work, whether it has been a week or a year on the job.
Being my first experience at a food manufacturing FMCG company, it was a treat to be part of a team where each person went out of their way to help and guide me along. The 8 weeks that I spent here not only helped me build a lot of skills, they also made me think about taking up a postgraduate program, building a niche skillset, and reassured me that working in a corporate FMCG environment is something I may enjoy a lot in the future.
For those of you looking to pursue interesting internships in the future, I have only one thing to say - keep on your feet and do not let yourself get bored. There is always room for new learning and new questions - whether it is in your department of interest, or somewhere else. All you have got to do is step outside your comfort zones and find opportunities to make friends and interact with people.
As for me, I hope to take all these memories into my future endeavours and pay forward the kindness shown to me as a thank you to the incredible people who made this internship what it was. Thank you Mondelez!