Tushar Sonthalia and Hetvi Dedhia, our final year Bachelor of Data Science (BDS) students, have achieved some great professional milestones at a very young age. While Tushar is currently working as a Machine Learning Researcher at Adaptive Investment Solutions (a FinTech start-up based out of Boston), Hetvi recently wrapped up her 6-month internship at ACG Worldwide where she worked as a Data Science Intern.
Tushar and Hetvi also recently landed an internship at Amazon – achieving a highly coveted milestone for any undergraduate student. How did they crack the selection process at Amazon and land this role? We caught up with Tushar and Hetvi to learn more about their journey.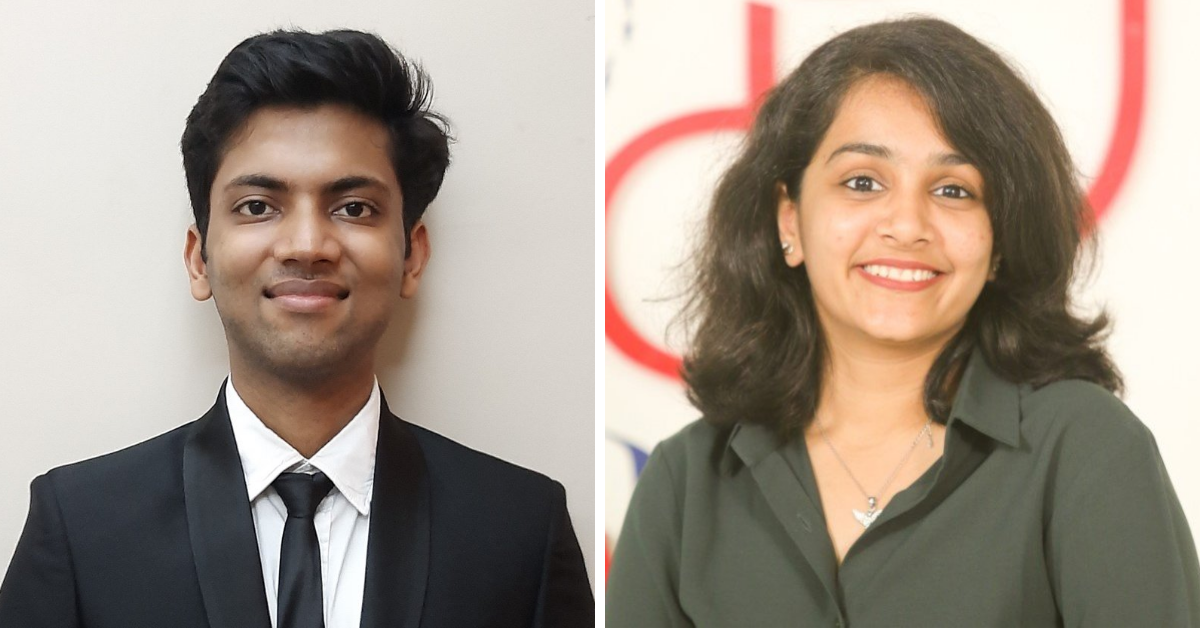 Q. You recently landed an internship at Amazon - congratulations! Could you tell us about your experience of cracking the interview process?
Tushar - It was a great experience, starting from the initial screening test to two interview rounds. Amazon truly made me comfortable. The screening test was an online workplace simulation where you face the situations - more of a replica of my would-be role at Amazon. It was followed by a behavioural assessment where I had to select characteristic traits similar to mine. After clearing the initial screening, I was invited for an online interview round. The 30-minute technical screening focused on programming challenges using Python and SQL.
I would say that almost all the questions were quite easy. In this round, the interviewer also asked me about all my previous internship experiences. Once I reached the final stage, I had a 15-minute interview with my hiring manager who asked me about instances from my life where I displayed two of Amazon's leadership principles - 'Invent and Simplify' and 'Dive Deep'. Overall, I enjoyed the interview experience and am excited for my internship.
Hetvi - Thank you! I had to go through 4 rounds of the interview process before I was offered this internship. The first two rounds were online assessment rounds where they check to see if we, as candidates, are fit for the company. The questions were mostly situation and personality-based. The next two rounds were video interview rounds. The third round was a technical round where they assessed our technical skills while the fourth (and final) round was behavioural where they evaluated us on Amazon's Leadership Principles.
The entire interview process was very systematic and the questions asked were very elaborative. The interviewers in the video interview round were friendly and professional, and made me feel comfortable.

Q. AWS is one of the biggest players in big data right now. What does your role consist of? What are you looking forward to learning from this internship experience?
Tushar - My position is of a Business Analyst and my role would consist of identifying, defining and documenting key performance indicators (KPIs) to measure process performance. It also includes consolidating my findings into cohesive and insightful analytical reports for use in decision-making. I hope to get practical experience in the field of e-Commerce and to work with a team through this internship.
Hetvi - As a Business Analyst Intern at Amazon, I will be responsible for mining data warehousing platforms to fetch raw data and analyse it to prepare insightful statistical reports. I will also act as a liaison between program managers, technical analysts, and functional experts to analyse the key performance indicators to measure process performance.
Being part of a FAANG company is like a dream come true. I am really looking forward to working at one of the industry giants, learning and enhancing my skills, and exploring the opportunities that lie ahead of me.

Q. You are currently in your last leg of your Undergraduate Degree. What was your favourite part of the SP Jain BDS experience?
Tushar - My favourite part of my education has been the exposure to so many accomplished people and the friends I have made here. I am looking forward to experiencing different cultures and am also excited for in-person interactions with my professors.
Hetvi - My favourite part of the SP Jain BDS experience have been the mentors who constantly helped us. Not only was I able to apply my classroom learning to real-life cases but also learnt and understood the difference between the two. This was possible because of the internship experience that I have had. The placement cell at SP Jain ensures that we get placed well, be it for our internships or a full-time job.

Q. Working with Amazon Data Science at such a young age is a dream for many. What tips would you like to share with our future students who wish to work with big companies like Amazon? How can they ensure that they get selected for this role?
Tushar – Working at Amazon has indeed been a dream come true! Nothing happens overnight. It's three years of dedicated efforts on extensive curriculum, getting opportunity at the right time and with your efforts and skills, you turn things positive.
The one thing I can say with certainty is that a person's skills play a big role at how companies perceive them. For anyone looking to build a career in Data Science, they need to go above and beyond their course curriculum and learn more topics through whatever resource suits them – YouTube, Coursera, Udemy, Books, or GitHub. In addition to building skills, it is important that they are able to communicate their abilities either through a portfolio website, GitHub or through recognised certifications. It is also important to work on soft skills, so they are more comfortable at interacting with an interviewer and for working with team members.
Hetvi - I was able to land two 6-month internships in the same academic year and I am so thrilled about it! I just wrapped up one of those internships and am excited to begin my journey with the second. To anyone aspiring to work in big companies like Amazon, I will advise you to gain as much industry experience as possible. These industry experiences will instil confidence in you and help you understand the difference in working on college projects and working on real-life projects too.
Apart from this, I would also recommend having a few certifications under your belt, practicing coding on platforms like HackerRank and LeetCode, and getting your hands dirty with some real-life projects. There are a lot of free resources available online - explore them and go above and beyond the prescribed syllabus. The professors are helpful and will guide you through out. Finally, I will say this - explore, learn and be inquisitive, but don't forget to have fun in the process.