Jobs Many Jags choose to get part-time jobs in Singapore and Sydney to help pay for college. The Singapore government gives special permission to foreign students at certain colleges (including S P Jain) to work 16 hours a week when classes are in session, and 40 hours a week during breaks. In Australia, it's 20 hours during classes and 40 hours otherwise. Foreign students in Dubai are not allowed to work.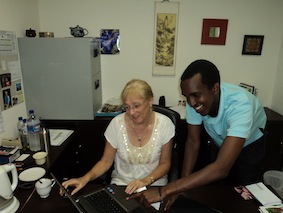 Part-time jobs are really easy to get in Singapore, especially in restaurants. You'll earn about US$6 an hour, and rarely (if ever) get tips. That isn't much, but it's enough to pay for a lot of your food costs and/or partying. The pay in Sydney is more like $16 – 20 an hour. But there aren't as many places to work nearby.
If you plan to get a job, it's best to limit yourself to weekends. That way your grades won't suffer.
Internships
S P Jain heartily encourages all students to do an internship every summer. This is, in part, why you're given four long months off for a break. Although the school tries to give leads, it is ultimately up to the students themselves to find placements. Jags learn how to craft good resumes (CVs), do interviews and write query letters to potential internship employers. Some even earn a good salary during the internship, although this should not be expected. In the past, students (even those who have finished only one year of studies) have interned at global leaders like SAP, Forbes, Deloitte, Ernst & Young, Unilever, Apple, Johnson & Johnson, Proctor & Gamble, Liberty Insurance, many international banks, and The Times of India. Students should start working on lining up internships for the long break (May - August) many months in advance.
Singapore Internships
Competition is stiff for internships in Singapore, as many other business schools urge their students to seek these opportunities. Therefore, stipends are typically small (US$450/month is common). On there other hand, a few Jags have found top-paying internships in the past (US$2,000/month). Many of these internships have deadlines in DECEMBER! Check them out at www.internsg.com or www.singapore-interns.com. You can also check with Mr. Suresh Kumar, VP of Corporate Relations in Singapore. Working with BBAs is not really his job, but he tries his best to help whenever he finds internship opportunities for Jags.
Students who secure internships in Singapore may be able to live on campus at reduced rates if space is available. Contact the Singapore Assistant Dean of BBA and/or Head of Campus for more information. For more info on Singapore internships, check out the S P Jain BBA internship website:
http://spjaininternships.weebly.com/internships.html
Sydney Internships
At the Sydney campus, Richard Collier, General Manager of Corporate Relations, makes a special effort to extend high-quality internship opportunities to our students. Talk to him as soon as you reach Sydney to indicate your interest. Here is a sampling of places where Jaguars have been successfully placed in Sydney-area internships:
Sydney Olympic Park Authority, state government authority
Grant Thornton, 2013 Financial Networking Company of the Year
Accor Hotels
• ChillIT P/L, entrepreneurial IT company
Thomas and Coffey, large mining infrastructure company
Antony Syndicate, a mid-sized SME financial and consultancy company
Platinum Media, a mid size marketing communications agency
South Sydney Business Chamber, a business services agency
Consider It Done Australia, a marketing communications agency
My Favourite Kitchen, a marketing realty agency