When Anushka Khemka (BBA - Class of 2020) arrived in Singapore for her freshman year at SP Jain, she considered herself a "shy individual preferring backstage duties". Four years later, does she still see herself like that? "Not at all! I have changed immensely as a person. I can confidently say that I have overcome that fear. I have grown to become a much more outspoken, confident and optimistic individual."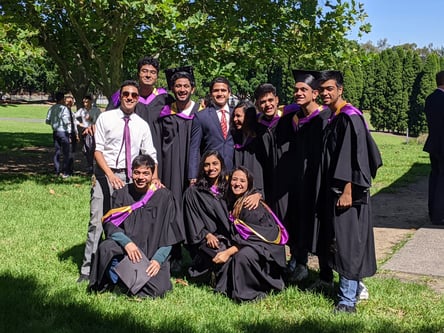 So, what is the story behind Anushka's transformation?
When Anushka enrolled in the Bachelor of Business Administration program at SP Jain in 2016, she was intent on studying business, having been inspired by her father. "My father has his own business and seeing his dedication and love for his work was the triggering point for my interest in business. Looking at him while growing up and talking to him about business-related issues is what drove me to take up an education in the field."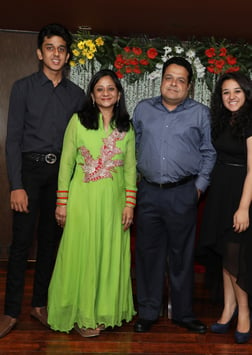 Having spent the next four years travelling from Singapore to Dubai and finally, to Sydney, Anushka got herself a front-row seat to experience the world of global business. "These four years have been a massive learning experience in terms of business agility and cultural sensitivity. All the three locations – Singapore, Dubai and Sydney – are so different in the kind of marketing and business practices they adopt. There is so much to learn from living and working in these three dynamic business environments about how different segments of customers perceive different business and marketing efforts. I'm sure that the experiences I have had will greatly help me both personally and professionally," shares Anushka.
Anushka's willingness to work hard and embrace new experiences and environments led to multiple global opportunities that made her SP Jain experience 'rich' and 'holistic'.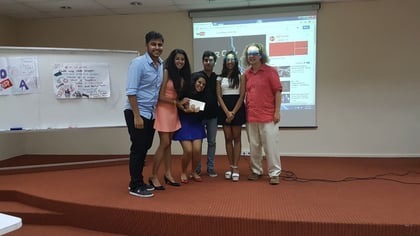 "In my first year, I was the CFO of the Arts and Culture Club and also won the AdMad competition with my team. I was the Student Council President in my second year, member of the Happiness Ambassador's Club, as well as a part of the Branding, Marketing and Media Relations Team at TEDxSPJain Dubai. I also participated in the Student Hack organized by the Middle East Broadcasting Center at the Dubai Lynx International Festival of Creativity. During my last 2 years, I was the Vice President of the Centre for Innovation, Incubation and Entrepreneurship (The CIIE Club) at SP Jain and the Head of Marketing at TEDxSPJain Sydney."
Like most of her classmates, Anushka also spent her time wisely putting together an enviable portfolio of internships. "After my first year in Singapore, I returned to India to pursue an internship at Tega Industries Limited in the Talent Acquisition department. During my second year, I worked at the Emirates Wildlife Society (WWF) in Dubai as a Business Development Intern. After my second year, I worked at Keventer Agro Limited as a Marketing Intern. I also went to The University of Chicago's Booth School of Business for a 3-week summer exchange program. During my time at Sydney, I worked as the Social Media Coordinator and Content Developer at a luxury fashion start-up – Bellissimo Regno. I was also the Marketing and Operations Associate at a real-estate start-up, Homease Pty Ltd."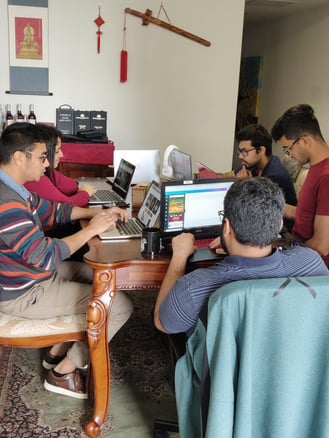 This eventful journey of four years culminated with Anushka being nominated for the prestigious President's Award for Global Excellence, in addition to making it to the Dean's List in each of her four years of study at SP Jain.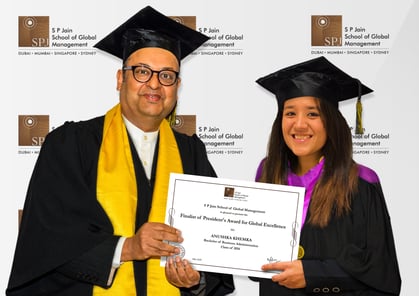 So, what's next for Anuskha? "I am currently working as the Media Executive for Compare Club in Sydney. I've always had a creative bent of mind and that's sort of what attracted me to Marketing in the first place. Having challenges thrown my way and being able to think out of the box is truly where I find my adrenaline rush. It's been an overwhelming 2 months since graduation, but I finally bagged a role to my liking and interest!"