Splashing in the water, cries, excitement. Our college, being very much for extra-curricular activities, didn't miss the opportunity to bring usto the Dreamland Aqua Park. In fact, this is the largest water park in the region—featuring over 30 thrilling rides, a multitude of restaurants and food choices, tennis, volleyball and basket ball courts. It also consists of a pool bar, a Jacuzzi and many more. This was really a very relaxing day for us—perfect to forget all the stress of school . So far, this was the best experience in Dubai. Since it is a hot place, to enjoy in water the whole day was so cool.The climate was appropriate to have fun in water. We were a diverse group. Vietnamese, Chinese, Indian, Kenyan, Indonesian, Brazilian, Mauritian, British and Burmese; we all had fun together.
Water Wonderland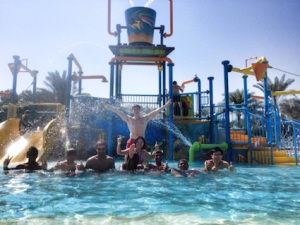 Theme Week Keeps Jags Jammin' in Dubai
In Singapore we organized what we called a "spirit week". This was, basically, a week of activities and all students had lots offun. Here, we organized a theme week to celebrate Halloween. It is actually happening right now. What's it all about? In fact, each day, everyone has to dress in a specific manner. One is pajama day, another is twins' day—whereby you choose someone and dress up exactly the same; Halloween day and Hippie day. This is fun because it breaks the way we dress up usually. To come to class and see someone in his/her pajama or in a Dracula costume is not a usual thing to see. On the last day, that is Thursday, there will be refreshment provided by the school for Halloween celebration.
Critical Thinking in Action
Classes at S P Jain are not only to do with teacher explaining, students taking notes, students making presentations and doing class work. We believe a lot in making everything interesting and interactive. Recently in Critical Thinking class, the professor organized a kind of game—it was not only for fun, but also to apply whatever we have learnt in that game. It was distressing and educative at the same time. Basically, we were divided in groups and given some materials, instructions and we had to construct something for a specific purpose. What the professor wanted to test us on is our ability for team work, to make decisions in groups and how we apply what we learn in real life situation. This was a good break for us from the usual lectures.
Editor's Note: Many thanks to Jevin (jevin.bba12@spjain.org) for providing this article and photos. Please send YOUR articles and photos to be included in the next post: alesa.lightbourne@spjain.org.