Vroom Vroom! Blast away on the fastest roller coaster on the planet! Strap yourself into the F1 cockpit and hold on tight as you feel the acceleration of 240km/h in under 5 seconds. Get ready to experience the most thrilling roller coaster the world over. A visit to the Ferrari world is an once-in-a-lifetime experience. It not only has amazing roller coasters but also, we get to know absolutely everything about Ferrari. So, car lovers, Ferrari World is the place to be for you.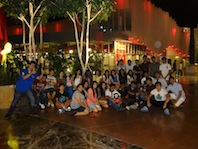 Jags on trip to Ferrari World in Dubai
Among the other attractions that are found include mind-blowing 4D rides, a tour of the historic Ferrari factory, learning how to do well with a Ferrari and most interestingly, are the countless number of luxurious and expensive Ferrari cars everywhere. As a matter of fact, the place is so big that it can easily accommodate seven football fields in 'head to toe'. Also, there are various restaurants with delicious variety of food and even many places to get souvenirs of the attractions. On top of that, SP Jain subsidized the ticket prices for us students. We paid about a quarter of the normal price. So, car lovers, brace yourselves for this unique opportunity!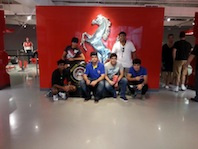 ~from Jevin Ballgobind BBA12