When Tang Chi Uy joined S P Jain as a freshman two years ago, he was shy and unsure of himself. So it was little short of amazing -- even to himself -- when he initiatied, organized and served as master of ceremonies for the Dubai campus' Cultural Talent Show. Held on April 2, and supported by a lot of help from Tang's friends and the Global Learning Team, the event featured an astonishing 25 performances from both undergraduate and graduate student cohorts.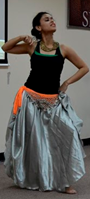 Dance by Manali, best solo performer
Talk about cultural diversity! The event started with a Vietnamese singing performance by My Hien & Dieu Anh, followed by other solo and group singing performances. The night became more exciting when a Vietnamese song as sung by an Indian student, dedicated to his Vietnamese girlfriend. It was followed by a guitar solo from Rohan Ranjit, and more singing. The night reached its climax with a musical skit (including dancing and singing) by Vincent, Mohammed, Jerome, and Karthik showcasing cultural aspects of their native Mauritius. Then came a band performance from Rushad, Luken, Rohan, Anh, Puvanat, and Aditya.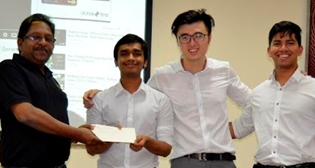 Prof Chris awards "most creative performance" to Shubham, Cloudy and Zeeth
The night continued with traditional dancing from Anjana Sharma and Manuel Carlos, a dance by Neha Ghate, and a dance by the entire GMBA batch. The next one was a traditional dance from BBA ladies: Sakshi, Nishi, Tanvi, Antra, and Chandana. BBA students Shubham, Zeeth, and Cloudy did a modern dance performance. There was also short skit from the MGB students before the last three dance performances.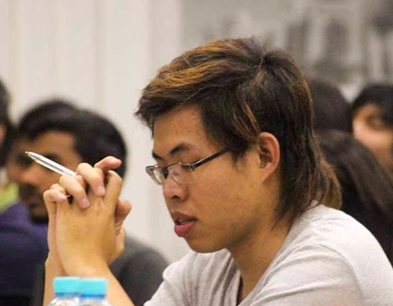 Tang Chi Uy, Event Organizer
"When I came up with the idea of a cultural talent show, I was hesitant, because this was my first time organizing such a big event," said Tang Chi Uy, BBA2014. "Then my friend and Mrs. Samantha encouraged me, so I just went with it! This was definitely the most stressful night I have ever experienced in my life. But with my team backing me up, everything turned out fantastic. I learned so much about both leadership and the importance of teamwork. And I'm grateful that I had a chance to stretch myself, and contribute something of value to S P Jain."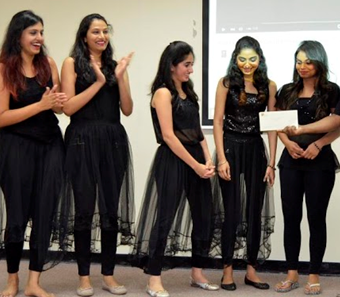 Antra, Chandana, Tanvi, Sakshi and Nishi won bet overall performance of the night
The winners were as follows:
Best overall performance -- Antra, Chandana, Tanvi, Sakshi and Nishi
Best solo performance – Manali Navale
Most creative performance - Shubham, Zeeth, and Cloudy
Most culturally representative performance - Vincent, Mohammed, Karthik, Jerome
Best bands -- 1. My Hien, Luken, Anh, Vikrant, and Vipul; 2. Srinivas, Luken, Anh, Vikrant, and Vipul; 3. Rushad, Rohan, Luken, Anh, Puvanat, and Aditya.