YUM! Whether you're vegetarian, carnivorous or a total omnivore, you'll have no problem finding plenty of affordable meals at all three of S P Jain's campuses.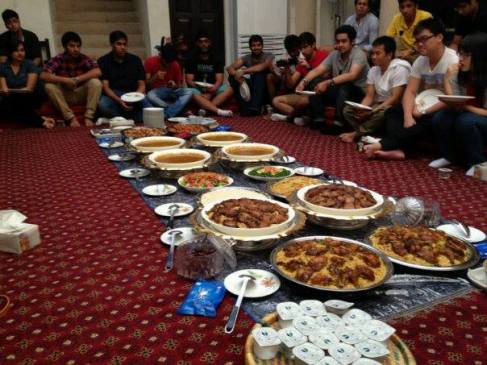 Jags dining Arab style in Dubai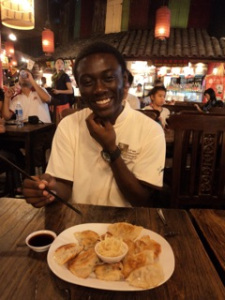 Bill, from Cameroon, having his first taste of Singaporean hawker center food.
Singapore -- On campus, just steps away from the hostel and classrooms is the cafeteria, serving three full meals a day. Indian food predominates, with both veg and nonveg options, plus a few international dishes. There's also a snack bar on the ground floor below the classrooms with coffee, tea, waffles, sandwiches, samosas, ice cream and much more. One bus stop away you've got McDonalds, Subway, grocery stores, bubble tea stalls, Starbucks, Italian and Japanese and Korean and Chinese eateries, IKEA for Western meals, and local Singaporean food courts. Singaporean food is famous worldwide, especially the street food, and it's cheap. Meals on campus are about US$4; food court or hawker stand meals run from $2.50 to $7. And then, of course, there's a very sophisticated restaurant scene, with virtually any cuisine you can ask for. Food, in fact, will be one of your biggest pleasures in Singapore.
You can't cook on campus (it's against the SG fire code), but there are microwaves, toasters and refrigerators on each floor, plus hot-water dispensers for tea and coffee. Most students get very inventive with Maggi or ramen noodle concoctions -- cheap, fast, easy to store and filling.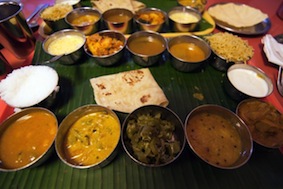 Local food in Singapore -- famous worldwide
Dubai -- Here, you have a kitchenette and small fridge in your apartment, so you can do more cooking. Right outside the apartment building, you'll find both grocery stores and small local restaurants, serving things like roast chicken, Indian dishes and other quick meals. On campus we have a canteen with healthy, affordable meals. It's really fun, though, to head out of the SPJ building next door to the food court, where you'll mix with global students attending the many other international universities at Academic City. The food court here is fantastic. On weekends, head out to the shopping malls or downtown Dubai itself for a very cosmopolitan mix of offerings, including just about every restaurant chain in the world. Food is inexpensive in Dubai. If you're careful, you shouldn't have to spend any more than you did in Singapore. But serious foodies beware -- you can spend a small fortune on fancy restaurants in the glitzy malls in Dubai. Fun for a splurge, though!
Sydney -- By now, you're 21 and you ought to know how to cook. Right? (Or at least you've had three summer breaks by now at home, to ask your family to teach you.) And you've got a complete apartment with a kitchen that would make the Iron Chef happy. A very small grocery store near the apartments carries basic stuff. Once a week or so you'll need to go to Woolworth's, or another larger grocery, to stock up. On weekdays, have lunch at the canteen on campus, or walk to nearby Subway or McDonalds. Beyond the apartments and campus, you've got glorious Sydney at your doorstep, with all of its world-class restaurants and clubs. If you do your own cooking and avoid expensive eateries, you can budget about US$550 a month for food.