If you're looking for world-class college sports teams, where you could get recruited to be a professional football or basketball player, forget S P Jain. After all, this is a business school, and a small one at that. But if you love to play sports for fun, and you value staying fit, you'll find plenty to keep you happy at S P Jain.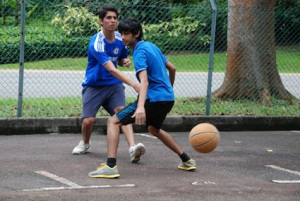 In Singapore, students living on campus have free access to an excellent private fitness center, with gym, tennis, swimming pool, classes and more. There's a small fitness area on campus, as well as table tennis, billiards and basic areas for basketball, volleyball, badminton and football (soccer). Students play cricket in the parking lot. Jags who are really serious about athletics (we've had some national-level competitors) often choose to join a private league off campus.
In Dubai and Sydney, you also have a gym available in the hostel (in Dubai, it's right inside your building), and indoor game areas (table tennis, etc.) on campus. In Sydney, the apartment complex has a swimming pool. And the Olympic pool (a block from the campus) is open to the public for a small fee.
As with most activities at S P Jain, sports are organized by students themselves. They might put together a six-on-six football match, or challenge the graduate students to a tournament. The Student Life coordinators are really helpful, and can often direct students to resources in the community.