Singapore -- The hostel (dormitory) is right upstairs from the classrooms. You jump in the lift (elevator), and you're there. Most students share a room with one, two, or sometimes three other students. You get a bed, desk, chair, small closet with drawers, sheets, and comforter (but no towel -- remember to bring one or two!). It's clean, and has everything you need, but it's not exactly spacious. The bathroom is down the hall, which you share with other residents. Males and females live on separate floors, and do not share bathrooms. There is are washers and dryers for doing laundry. They take tokens, which you can get from the front desk. Many students buy drying racks to air-dry their clothes, especially Indian cottons which shrink in dryers. Each dorm room has its own air conditioner, and a window to the outside.

S P Jain has housing available for all of its Jaguars. Each campus is really different.
Students are mixed up by nationality, so you will have roommates from other countries. You are assigned a roommate by the school. Rent for the hostel is paid in advance for each semester. A few private rooms are sometimes available for an extra cost. However, it is highly recommended that you have roommates, as you will bond with other students faster this way.
No cooking is allowed in the Singapore hostel, although each floor has a microwave, toaster and refrigerators (separate for vegetarian and non-veg) in the common area. There is also a TV and study area for common use. The free wifi in the hostel works fine except for high-bandwidth usage; it is sometimes difficult to do things like download movies.
Dubai student housing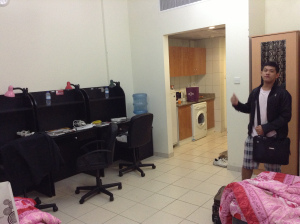 Inside the Dubai dormitories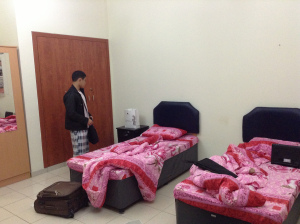 Sleeping area -- yes, somebody gave the guys pink bedding (oops)
An adult lives in the Singapore hostel, to be available for students who need any type of support. This person, and/or the head of campus and/or assistant dean, are responsible if students need medical care beyond a regular doctor's visit.
Note: If you're in BBA14 (starting in Singapore in September 2014), the cohort is going to be larger than any other in the past. So housing on campus may be limited. Some students may be housed in S P Jain-arranged apartments off campus. IF YOU WANT TO BE SURE TO LIVE ON CAMPUS, SIGN UP FOR IT RIGHT AWAY!!!
Dubai -- Here, you have more independence, as the "hostel" is actually in a complex of apartment buildings located a short drive from the campus. Each room holds either 3 or 5 students, and has a kitchenette and clothes washer. In the 3-person units, there is one bathroom and all three sleep in one large area. The wifi is great. In the 5-person units, you have the same thing except that two people have a separate bedroom with its own bath. You get to choose your own roommates, which you will do before leaving Singapore in April. Oh -- and there's a gym right in the building.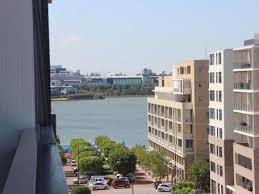 Wentworth Point Apartments, Sydney, where BBA students live (view from balcony)
Sydney -- S P Jain rents apartments in Burwood, a neighborhood near the campus. It is VERY convenient -- right next to the train station, with frequent buses to campus. This is not a student hostel. Rather, your neighbors are regular adults and families, many of whom own their apartments (condos), so it's important to be considerate of them (e.g. not having really loud parties). Each apartment has two bedrooms and two baths, a full kitchen (stove, fridge, dishwasher, microwave, pots, pans, dishes, etc.), a patio, and full security features. You pay for your own internet and utilities. There is a parking garage beneath the building, if you choose to buy a car. Most Jags are surprised at the quality of the Sydney apartments, and really appreciate their two years here.
BBA/MBA/MGB -- The hostels / apartments at all three campuses are shared by both undergraduate and graduate students (BBAs as well as MBAs and MGBs), although efforts are made to house students from each batch in separate rooms. Sometimes BBAs end up rooming with a graduate student for a while (grad students stay at each campus for only 4 months) when necessary for space. Most Jaguars, however, say that they enjoy this experience, and learn a lot from their older roommates.
P.S. -- Current Jaguars, please send Prof Lesa some photos of your housing, both interior and exterior, so we can put better pictures here. Thanks!