Getting around is really easy in Singapore, and pretty easy in S P Jain's other two cities.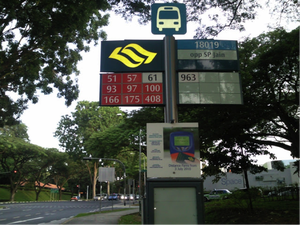 Hop aboard the bus right outside the Singapore campus
Singapore -- Step outside the campus gates, and you're at a bus stop. Singapore is known for its fantastic public transportation system. As the Lonely Planet Guidebook says, any sixth grader could get around the entire country alone after about 20 minutes here. The subway (MRT) goes practically everywhere, and is located a short walk (or 2 bus stops) from campus. You can walk to McDonalds, KFC, Subway, and grocery stores. After Singapore, transportation everywhere else in the world seems downright primitive by comparison. Taxis are cheap and plentiful (except during peak hours). A bicycle is fun, but be cautious, because Singapore traffic is no joke -- and they don't look out for cyclists.
Dubai -- Both the campus and the hostel are a ways from the center of the city. So the school provides a free shuttle several times a day back and forth in time for classes. The school also arranges transportation to popular places. You can always ask the head of campus to fix up a van if you have a small group that wants to go somewhere. Otherwise, you can get together a few friends and share a taxi to go anywhere. Forget bicycles, as the weather is hot, windy and sandy, and literally nobody in the entire country rides a bike.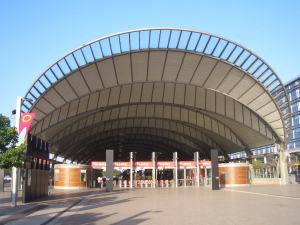 Olympic Park Railway Station, 2 blocks from SP Jain's Singapore campus
Sydney -- It's about a 40 minute walk from the campus to the apartments. A bus goes once or twice an hour, but stops in the evening. There's a train station two blocks from the campus that goes into the city, but it stops running at night too. Buses are less frequent and more expensive than in Singapore (where the Jaguars have gotten spoiled), but most students rely on them (and the trains) to get around. Some students buy a car, and this makes it a lot easier to buy groceries and get around in general. (It can get really hard to carry a big load of food on the bus back to your apartment.) However, there is almost no parking available for students on campus, or in the surrounding business parks. That means it's kind of a hassle to drive to school. The best option is to get a bicycle. It's almost totally flat (and very safe) between the campus and apartments, and weather is fairly good most of the time for cycling. Aussies love outdoor sports, and you'll see all kinds of cyclist clubs at Olympic Park on weekends. So on a bike, you fit right in. A few Jags ride skateboards, but the surfaces between campus and the apartments are rather uneven, and not very safe for boarding.