"This is to inform that you have been awarded a 100% scholarship for the four year bachelor program under the tri-city model at S P Jain School of Global Management"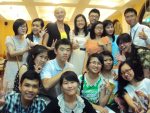 I still vividly remember this line from the letter of acceptance I received almost two years ago. At that time, hardly did I imagine how much my life was going to change.
For most of my life, I was quite content with what I had. I led a normal and quiet life, not caring too much about future. Sometimes, I day dreamed about traveling to faraway lands, meeting with people from different cultures and backgrounds. As my major in high school was English, my main goal was to apply for the National University of Foreign Language to become an English teacher. Well, that's as far as I could see then.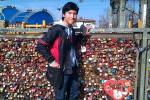 Then one day, when I was in grade 12, S P Jain came and introduced its business bachelor program under the tri-city model. It immediately dawned on me that this was a once-in-a lifetime opportunity I cannot afford to miss. I quickly grabbed the chance for application, and fortunately enough, I was awarded a full scholarship. So I packed my bag and said goodbye to my mom and dad. Here began the journey…
Singaporewas nothing short of a brand new experience to me. It was the first time I had ever traveled alone, not to mention to a foreign country. It will be always a fresh memory to me how I struggled on the arrival day in Singapore. After spending half an hour getting lost, I finally found the belt for my luggage, only to learn that the handle was already broken. As a result, I ended up pushing the heavy suitcase to the customer service department, filling in a bunch of papers before finally leaving. Every once in a while, I look back at that incident and cannot help laughing with myself. An omen for many surprises and unpredictable events to come!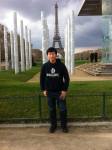 My first orientation week upon arrival was a good time for me to exchange information and get to know my new friends. Within six days we had icebreaking activities, participated in a lot of games and did team building together. For that whole week, I indeed learned a great deal about other countries. With a friend from the Philippines, I got to know that the two colors on the Filipino national flag, red and blue, are interchanged, depending on whether the country is at war or at peace. I learned from Indian friends how the emblem on the Indian passport (four lions facing different directions) symbolizes the pride and traditions of the nation. Every single little fact I learned day by day was what really made my first year abroad worthwhile.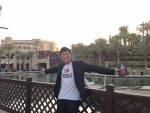 Fast forward to the end of my first semester in Singapore, I had already got used to the new pace of life here. Everything kept moving fast, and so did I. Every day, waking up from bed, I was excited to learn something new. As a student, after class hours (which were quite interesting and practically useful; however, we will talk about them later), I found myself a job in Subway to gain some hands-on experience of working. In retrospect, I was really thankful for these experiences. With each day working, I became more and more mature and grown-up. Just imagine how you would feel when getting the first month salary, your own hard-earned money. For me, at that very moment, I learned the lesson about the real value of money. Nothing comes easy, so one must always make an effort to achieve what he wants. It also occurred to me how much hardship my parents had to endure to bring me up and be able to afford a decent education for me, which motivated me to study harder to not let them down.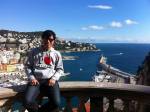 Now let's come back to my academic experience in Singapore. Compared to my high school education back in Vietnam, college learning and teaching in S P Jain was more integrative, liberal and student-focused. For every lesson, professors would encourage us to express our opinions and debate to have a multiple dimensional view on a particular issue. In this environment, what the teachers do is more than just giving lectures. They motivate and inspire students with their learning. I vividly remember the first thing my economics professor did every morning was raising her voice: "Hello my students, how was your sleep last night? Did you have a good breakfast? If you want an early lunch, then stay focused with me!" The way she posed in front of the class, her gesture and sense of humor were a real dose of stimulus for our brains in the morning. On the day before Halloween, while we were in class reading materials, three professors came banging loudly on the door, part of the traditional trick-or-treating. They then gave each of us a pumpkin-shaped box full of candy. Hardly could I believe that our normally strict-looking teachers were so humorous and funny.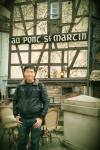 Taking one step from high school to college, I also adapted myself to the new way of studying here. One crucial concept of college is teamwork. What counts is not always how high the grade one gets but rather, it is how he or she interacts with other people in the same team to achieve the best group result. In each class, we were randomly assigned into teams with different people. Sometimes, due to cultural and personal differences, difficulties arose in communication. On other occasions, we argued over whether everyone took their fair share of work. Yet, after each group project and team assignment, we grew closer to each other. We learned about each team member's strength and weakness so as to communicate more effectively.
At the end of the school year, all of S P Jain students had to participate in a Regional Research Project (RRP), which required us to interview high-profile people and make a report on a certain industry of Singapore. My team, including me and three other people, chose breweries as our topic for research. It was quite a challenging time for us. Based on previous teamwork experience, we quickly divided the work evenly, deciding that each would be responsible for interviewing one person. In order to find a suitable interviewees, personally I had to overcome the fear of actively contacting people. I remember the many times people on the other end of the line gave excuses for refusal or a straight no to an appointment. When the deadline came close and we still had to conduct one more interview, my team members and I decided to approach the business owners directly. Fortunately, we found an open and friendly manager who answered every question in details. Mission completed!
During my first year in Singapore, besides gaining a great deal of academic and real-life working experience, I also learned to appreciate the country's unique history and culture and most importantly, its people. As for the demography, the largest ethnic group here is Chinese, followed by Indian and Malay. Yet, this place is a real multicultural melting pot where people from all over the world come and add colors to the so-called Singaporean diversity. I greatly admire how Singapore, a "Little Red Dot" (its favorite nickname) transformed itself from a backwater island into one of the most vibrant hubs, making the whole world stare in admiration. The people, regardless of their ethnicities, all share a strong Singaporean identity and a burning aspiration for a great and united nation of Singapura. I have seen for myself the pride and glory in the eyes of every Singaporean friend I know when they talked about going for National Service. Once in a while, I saw their photos on Facebook. Dressed in the ceremonial white army suite, they looked proud with a straight posture and big smile.
Doing my part-time jobs, I had the chance to talk to ordinary Singaporeans about their lives. I learned that whether people are from Vietnam or Singapore, a poor country or a rich country, they all have things in common: love, hope and even regrets. Sometimes, people regret about things they either did or didn't do in the past, wondering what could have been different. They all cherish their family and friends. Despite the worries of everyday life, they never lose hope for a better future, for themselves and for their loved ones. These are the things that make us all human.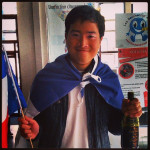 As someone said, time flies. Looking back at all the fresh memories I had in Singapore, I keep wondering how one year has already passed by. That one year, not too long but not too short, witnessed how I grew up, became more mature and understood more about life.
Saying goodbye to Singapore, I was excited to spend my second year in S P Jain in Dubai, the heart of the Middle East. To me, long gone was the fear of a first-time lone traveler, not to mention that I had as my companions two friends also from Vietnam. It was a long flight before we finally reached this new land.
Welcome to Dubai, the second stop in my journey!
The university had already prepared a bus to bring us to the college campus. Heading out of the terminal, we were immediately greeted by the hot and dry air typical of the Arab region. It was 11.30 pm and the temperature was 36 C. On the way back to campus, I was amazed by the landscape in front of my eyes: high buildings shone brightly, surrounded by a sea of sand. When the city light was out of sight, we drove on the highway. Beyond the road light, the desert, covered by the night, looked mesmerizingly mysterious.
Our new home was in China Cluster, International City, which took 20 minutes by car. The first thing I noticed was that the word "city" was of frequent usage. There were International City, Internet City, Military City, Media City and so forth, all of which were districts of Dubai, interconnected by highways.
For the whole semester, I stayed with two roommates, one from Indonesia and the other from Brazil. We had a great time together. In the first week after arrival, we decided to buy some kitchen utensils. We would then divide the expenses by three, and that was what we did after every time buying groceries. For our typical dinner, the Indonesian would take out from the fridge and fry six nuggets (or any number that can be divided by three!) and cook the rice. Once we were done, the Brazilian boy and I would take daily turns to wash the dishes. Here came a problem. Sometimes either of us forgot to do the washing, and when we came back after school the next day, the pan and bowls were still dirty. On other occasions, we would quarrel over whose turn it was to wash the dishes. The situation did somehow improve when we tried ordering some food by phone and soon got addicted to that. This new habit saved us unnecessary arguments but also took a heavy toll on our pocket, even though delivery was free of charge. It is true that you have to sacrifice one thing for another, isn't it?
Due to the United Arab Emirates (UAE) law forbidding students to work, plus the far distance between districts of Dubai, we had more than enough free time at home after class. Except for school trips at the weekend, we came back from school every day at either two or four in the afternoon. Well, honestly what would you expect typical students (by "typical students", I don't mean nerds!) to do right after class? I can bet that for most of us, it would be anything but doing homework. After all the sleeping, talking on Skype and watching movies, I would wonder what else to do to kill the time. Out of boredom, we three roommates decided to find something to do together. We bought a deck of cards and each would teach the other two card games from his country (such an international experience!). It was a brilliant idea, as some friends from other rooms started to drop by sometimes and join us. In the weekend, we would gather in the recreational room for the "horror movie night". With all the screams, the shouts and nightmares we had after each night, it was definitely one of my best memories in Dubai.
However, when exams drew near, we always knew it was time to be serious and stay focused. In my room, we would revise lessons individually and then together. For example, the night before the exam for financial accounting, we would test each other on concepts of balance sheet, accounting standards, etc. and how we applied these concepts to exercises. Concerning subjects that required a lot of reading, we decided to divide the work among ourselves. This meant each would read one third of the material and then explain to the other two. By this method of group study, we saved a great deal of time and effort while still achieving a good result.
During my stay in Dubai, I could see the distinct traditions and culture of the Arab region compared to Asia. Whereas Singapore and Vietnam share some similar characters of Oriental culture, everything here is way different. The most noticeable feature is religion. The UAE follows Islam, which exerts a great influence on every walk of life. The first sound I heard in the early morning and in the late afternoon was always the prayer from the mosque. Even when we went to the shopping mall, the prayer was also broadcast to serve people praying. The Islamic rules dictate from behaviors and manners, roles of men and women in society to ways of doing business. For example, it is expected for Emirati women to be fully covered in black clothes as an appropriate manner. Business is family relationship-based; bank loans are interest-free, since interest-bearing loans are not permitted in Islam.
From a different perspective, Dubai is quite an open and tolerant place for foreigners. There is a deep-rooted misconception that the Middle East is a turbulent region fraught with wars and terrorism, where people are extreme and hostile. But in fact, Dubai is one of the world's most vibrant metropolises, ranked within 20 most dynamic cities worldwide. Through communication with Emiratis here, I realized that they are just as friendly and helpful as anyone elsewhere in the world. Even though, their background, culture and belief may be much different from ours, in the end, we are all human, hospitable and friendly by nature.
By the end of the first semester in Dubai, I was confirmed as an exchange student to France for the second semester. A new door opened, promising many more surprises to come. In retrospect, all the experiences and memories I had in Singapore and Dubai have greatly broadened my horizon. Looking back at myself just three or four years ago, I am proud how far I have made it. From being content with a quiet and simple life, I have come to realize how beautiful and awesome the world out there is. I am and will always be hungry for new experience and knowledge -- because everybody knows we only live once!
~Khoa (Vietnam) BBA12