"In 1897, a young man named Ardeshir Godrej gave up law and turned to lock-making. Ardeshir went on to make safes and security equipment of the highest order, and then stunned the world by creating toilet soap from vegetable oil. His brother Pirojsha Godrej carried Ardeshirs dream forward, leading Godrej towards becoming a vibrant, multi-business enterprise. Pirojsha laid the foundation for the sprawling industrial garden township now called Pirojshanagar in the suburbs of Mumbai, where the Godrej Group has its headquarters," says the Godrej & Boyce website.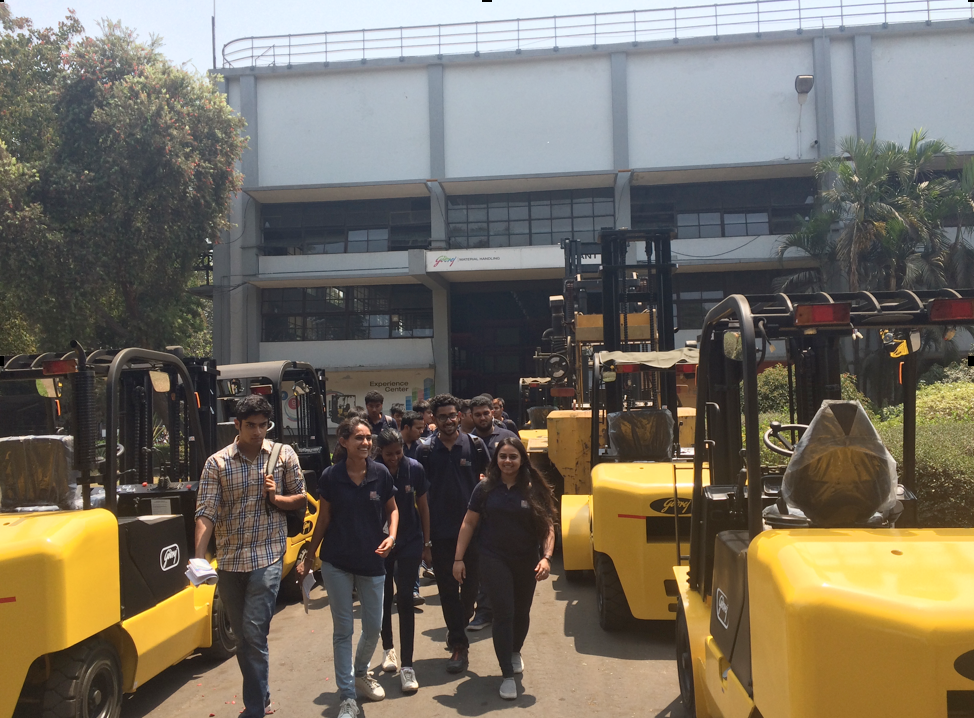 Jags tour the forklift area at Godrej & Boyce's plant near Mumbai.
Godrej & Boyce is a 100+ year old holding company of the Godrej Group, with a presence across 14 diverse businesses ranging from home appliances to systems for aerospace, with a reported turnover of US$1.3 billion as of the year 2015. It employs close to 7,000 workers & engineers at its Mumbai facility, and owns close to 4,000 acres of land in the eastern suburbs of Mumbai, including a vast mangrove area.Most importantly, the conglomerate takes corporate social responsibility (CSR) very seriously. So Mumbai Jaguar CSR students visited to learn first-hand.
Truly Green Campus
As the Jags started to walk across this vast expanse of land, they wondered whether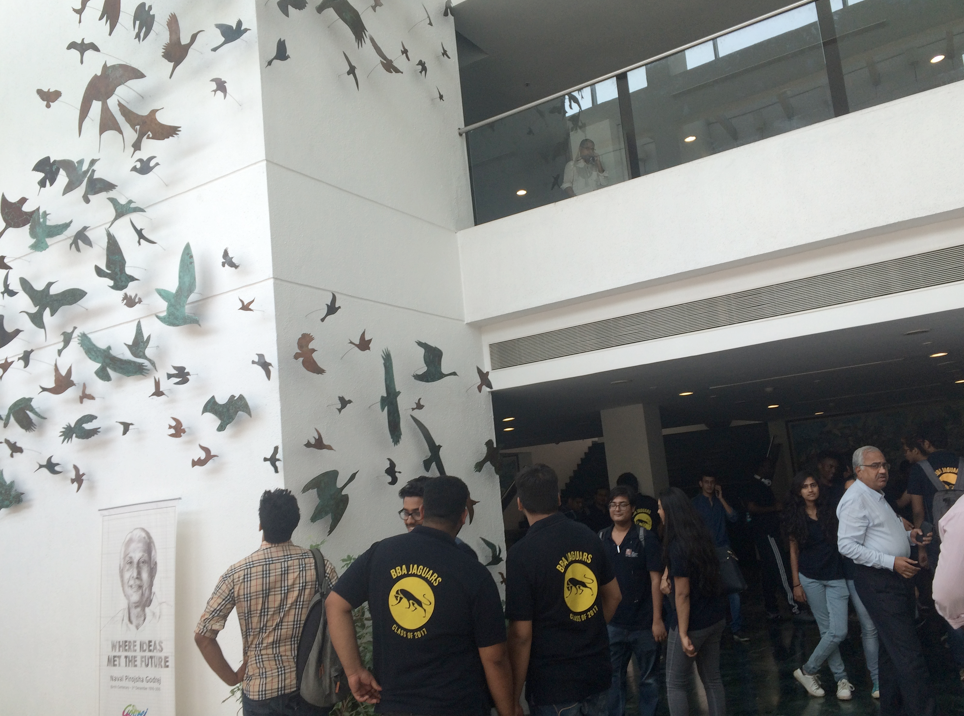 Ideas for CSR soared like the corporate art birds as Jags applied CSR creativity to Godrej & Boyce marketing issues.
they were indeed inside an industrial zone or in a landscaped green oasis given the dense lush green cover. Their first stop was a briefing session by the head of corporate training, who explained CSR activities at Godrej & Boyce, and the formulation of CSR policy in 2012. Its three focus areas are employability for TBL communities, Greener India initiatives, and building affordable products for the TBL communities. The focus of BBA Jags' visit was to better understand the employability factor of TBL communities, which included vocational training in welding and forklift driving.
BBA Jags were then taken to the welding area for a site tour. What caught their immediate attention was seeing a substantial number of women welders at the workshop -- and hearing that the workshop had had zero accidents since 2010. Similarly, when the Jags visited the forklift training area, they were again surprised to learn that 17 female forklift operators had successfully graduated from the institute recently.
After lunch at the state-of-the-art IGBC LEED Platinum-rated building canteen, Jags heard from the facilities manager about the benefits of a Platinum rated building, and some of the unique features of the building complex from a sustainability perspective.
Learning to be Consultants
Next, the Jags were tasked with preparing a CSR presentation of their own, creating marketing materials to help promote Godrej's welding vocational course for socially economically backward classes. The exercise was dubbed "Individual CSR" by the Godrej executives. Jags had no Internet access, since the goal was to use brain power over Google power. Instead, they received only flipcharts and stationary support materials. For several hours, they brainstormed in groups, creating presentations for a tough Godrej executive judge. In a nail-biting finish (and by a whisker of a single point), one group emerged as the winner and was awarded a trophy for "Best CSR presentation". However, there were actually no losers, since the head of the Corporate Training Program announced that ALL of the ideas generated by the Jags when they set out to launch their CSR marketing campaigns.
Admiring art by acclaimed sculptor Jeremy Mayer.
The evening ended with a visit to the famed "Hubble" area, modeled on Google Headquarters, where students munched on snacks & refreshments and marveled at Jeremy Mayer's creative sculpting works.
"Godrej was an eye opener in how CSR can be such an integral part of an organization a operations," commented Amartya, a Mumbai Jaguar.
Malaika Menon, another student, agreed. "It was a very informative and interesting visit. The various sustainability practices followed by the organization helped us apply our knowledge and widen our understanding. Furthermore, the varied programs and undertakings were intriguing and insightful, helping us to understand the dynamics of the corporate world. The interactive activity helped surge a thought process of applying Godrej-style thinking to our lives."
Vishwa said, "It was an amazing experience as we got a hands-on experience of what we learn in class. "
Jui commented that "Godrej is even taking a step forward for uplifting women."