Little did we know that a mail from our Global Learning and Student Life office about a simple competition would turn into a 5-month journey of our potential business idea. We were asked to submit a rough idea of our business for the HULT Prize Summit 2020 which would be evaluated among thousands of participants.
The Hult Prize, founded by Ahmad Ashkar and funded by Bertil Hult, is an annual, year-long competition that crowd-sources ideas from MBA and college students after challenging them to solve a pressing social issue around topics such as food security, water access, energy, and education.
We sheepishly submitted our idea, without any hope of being selected at such a large international competition. However, after a month-long wait, can you imagine our excitement when we woke up to a "Congratulations" e-mail in our inbox stating that we had been shortlisted for the Regional Round in Melbourne, Australia to be held in April 2020?
Now, we had four months to come up with a full-fledged idea but were overwhelmed by the sheer size of the matter. We approached the college to guide us through this process as it was a huge opportunity for us. With shock and surprise, Megna Kalvani (Senior Manager – Global Learning & Student Life) told us that this could be our chance to start our own company!
Hearing this filled us with unprecedented motivation and energised our business minds. We started putting the pieces together and realised that we stood a chance to win $1 Million. Silence filled the coffee shop in which the three of us sat. Dreams flashed before our eyes, but dreams don't come without a price. We were faced with a decision that would dictate how the next quarter of our year would be spent, creating memories with our friends and family or working endlessly to turn our ever so rough idea into a concrete business pitch.
We looked at each other nervously and broke the silence with an enthusiastic shout, "Let's make a company!". We never looked back since then. Thoughts started flying around about how our company should work and we were able to create a concrete idea. All we were looking for was a pair of ears to hear us out and guide us further. That is when our college introduced us to Prof. TP Anand. After a long and detailed meeting with him, he was on board with our idea and taught us essential skills related to time management and allocation.
The idea was filled with potential, but we needed to validate it. We took part in inter university competitions along the way to see where our idea stood in the market. The first competition was an inter university business pitch hosted by IMT University Dubai - WE LOST! With only a participation certificate in our hands, we knew that there were a lot more improvements to be made. We listed out all the things that need to be done. Day after day, we spoke to different experts about their opinions, kept revising it to accommodate the suggestions and finally created a prototype.
We took part in two other inter university business pitch competitions, this time hosted by SP Jain as part of our annual business festival, and we won the second place in the business pitches. This was progress.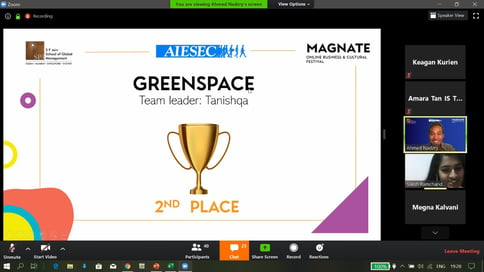 We knew we were getting better. So far, we had an excellent presentation, a functioning app, a well-equipped team, a wise mentor and a supporting college. We wanted to test out this new version of the company in a couple of more competitions and, for the most part, it went well. We gathered all the courage we had left in us and prepared for the finale, the HULT Regional Summit, our one shot to win $1 Million in prize money.
We submitted our pitch along with all the supporting documents and patiently waited to find out the results the next morning. It was obvious that it was going to be a sleepless and anxiety-filled night. A few hours before the results were out, the three of us got on call and shared our thoughts: "Whatever happens, we will make this a real company and create the change we want to".
We spent the morning refreshing their Instagram page to know if we made it to the top 6, while simultaneously thinking about the amount of efforts we have already put into this and how much more is left to do. The results finally came in, we scrolled to see if our idea was chosen. Unfortunately, we did not qualify.
This isn't the end; this is the beginning of something special. We are confident about making it a reality and making this statement come true "In the hopes of making the world a Green Place, we present to you GreenSpace."
We would like to thank Prof. TP Anand for his guidance and mentorship through the process. Prof. Christopher Abraham, Prof. Nitin Patwa, Prof. Sivakumar Alagumalai and Ms. Megna Kalvani who supported us. A thank you to our friends and family who are our backbone. Also, to all the mentors we reached out to for their insights in order to emerge stronger and better.
Celebrating the little successes and the big failures make us stronger as a team. We are eager to make a difference by uncovering challenges and making them opportunities.
For Green Space Global, our journey continues. We have just qualified into the TiE Young Entrepreneur University Pitch 2020 and we look forward to pitching our business idea at the Open Door Pitch to a panel of global investors. Come support us on June 25, 2020.
About the team:
Green Space Global is made up of SP Jain's Bachelor of Business Administration jaguars Chinmay Naik, Tanishqa Kambli, and Abhimanyu Shivaji Pillai. Having been raised in Dubai, all three of them share an in-depth understanding of the Middle Eastern market and are now equipped with the skills needed to transform their idea into a successful business.
Chinmay Naik, a bold and audacious speaker with larger-than-life ideas, has just as much vigour to keep them going.
Tanishqa Kambli, a nationalist in athletics, possesses the ability to be purposeful and determined despite the challenges thrown at her.
Abhimanyu Shivaji Pillai, an aspiring thinker, logical and straightforward, has the ability to strategise issues and their solutions in the best possible way, ultimately bringing the group together.
What happens when you put three middle class Indian students in a room together? You get passion and restlessness. The itch to change the world, to do something for the greater good, and to innovate. Living a mediocre childhood creates a spark that drives people to achieve things in a way that no one has ever done before.